The Scholars Strategy Network (SSN) is a one-stop resource that connects journalists, policymakers, and civic leaders to America's top scholars and their research. Through a network of chapters across the country, Scholars Strategy Network works to advance the use of research wherever policy decisions are made in order to improve policy and strengthen democracy.
Redfin Solutions started working with the Scholars Strategy Network in 2015 to support, host, and improve their existing Drupal website. When it came time to refresh their web presence, we worked with SSN to develop a brand strategy and vision for their website. Based on our conversations and user research, we created a new visual identity, redesigned their website, and upgraded the website to Drupal 8. Since then, we've continued to maintain and iteratively improve their website to keep up to date with their users' needs and Drupal best practices.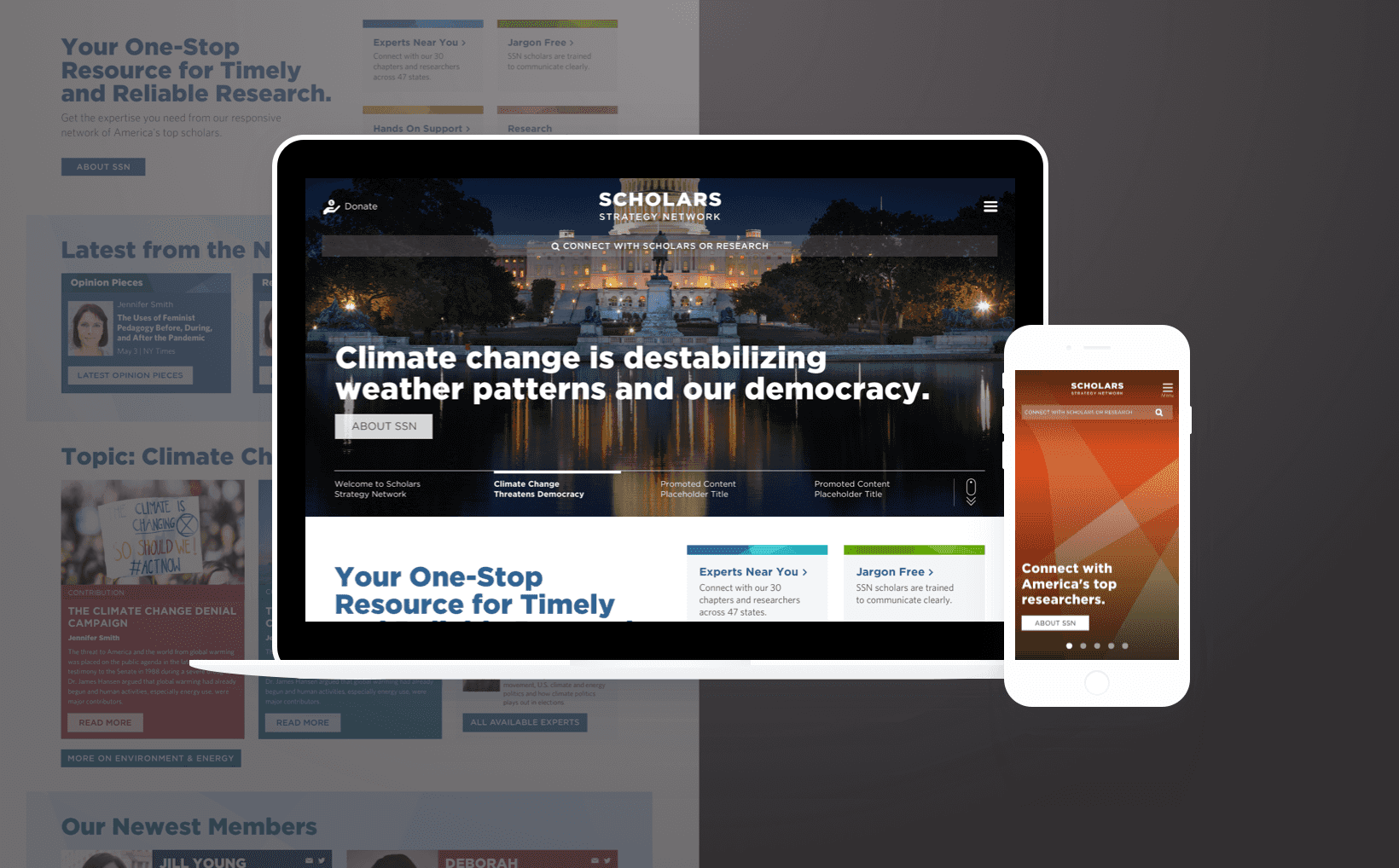 Goals and Requirements
After a few years of working together, Scholars Strategy Network approached Redfin with the vision to build a web presence that more accurately and boldly represented their work and mission. They needed help defining a brand strategy and visual identity, which would lay the framework for a site redesign. Redfin was selected to develop the brand strategy and visual identity, design the new website, and upgrade SSN to Drupal 8.
The primary goal of this project was to make Scholars Strategy Network more accessible to its audiences—and live up to their unofficial motto of "less wonk, more spark." SSN needed a brand that articulated the benefits of their work and created prestige around membership. The objectives of the new website were to create name and brand awareness, connect journalists to scholars and their research, empower state-level chapters, and create a compelling user experience. 
SSN needed to ensure their website featured a robust and efficient search experience, so that busy journalists and policymakers could quickly find research or scholars to help answer their policy questions. They also needed to ensure that state-level chapters—the backbone of SSN's federated structure—were featured prominently and that their value was articulated through the website's design. Most importantly, they needed the site to facilitate the engagement and connection between researchers and non-academic audiences that is vital to SSN's mission.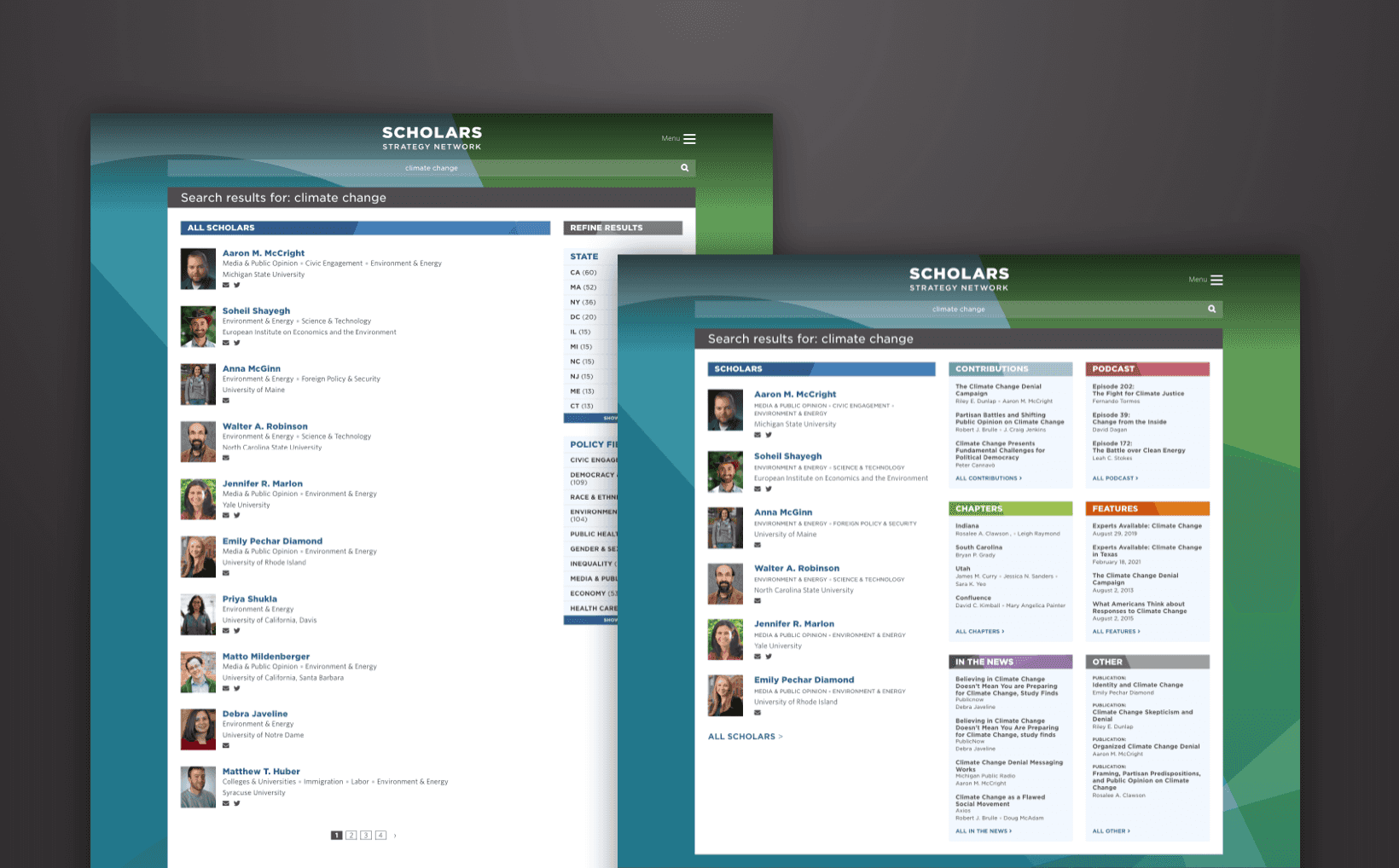 Outcomes
Bold new visual identity & brand strategy
Through user research, stakeholder interviews, and collaborative meetings, Redfin Solutions helped Scholars Strategy Network define a new brand narrative that conveyed the warmth, reliability, and innovation of their network along with their extensive policy knowledge. When positioning statements and brand language were finalized, Redfin designers worked with the SSN team to develop a comprehensive new visual identity, incorporating new brandmarks and an updated logo, colors, and typography with clear guidelines for usage on digital and print materials. Redfin provided an array of design assets, from social media quote cards to specs for signage and other physical branding.
User-centered web design
Drawing on the user research conducted in the brand and discovery phase, Redfin Solutions worked with SSN to define user journeys and construct an information architecture that supports user goals. Redfin helped turn their complex and multi-level menu into a simple, flat navigation. Simultaneously, we collapsed the navigation into a hamburger menu on all screen sizes to to highlight timely homepage content and place more emphasis on the header search bar, which is a user's go-to source for finding a scholar to connect with on a specific topic. 
We transformed the Scholars Strategy Network homepage into a high-energy content hub that's always up to date with relevant research, eliciting the atmosphere of a newsroom. Large text is strategically paired with bold images to draw attention to lead content while ensuring accessibility and legibility. Users are encouraged throughout the website to "find an expert" on a policy topic of interest, which leads to summary information and listing of scholars who specialize in it. The homepage also highlights the breadth of SSN's chapters using an interactive map that showcases the network's broad reach across the country, pulls in chapter information, and allows users to access a chapter with one click.
In order to further support the goal of helping journalists connect with SSN scholars, the website prominently features scholar contact information, which is cross referenced and displayed on a variety of content types, including research briefs, chapter pages, and podcasts. Redfin also helped set up Google Analytics on scholar contact links so that SSN could track how often they were being used and emphasize to members the value of the website for making connections.
Powerful search tool takes center stage
The SSN website uses search as a tool to help journalists and policymakers connect to the most relevant scholars and their research. Many users come to the site not knowing exactly what SSN can offer. By guiding users to the prominent search bar and designing a strategic search results page with 7 different "buckets" of results, SSN immediately highlights relevant scholars and introduces users to the other resources they have available, such as research publications and podcasts. In this way, the search results page serves as a tool to help users find the most relevant resources without overwhelming them.
Redfin Solutions used Drupal's Search API Solr module. This provides an Apache Solr backend for efficient and powerful searches that can handle multiple indices for different types of content and filters that help users refine their results. Redfin further customized the search results by working with the client to determine the relevancy of different types of content. 
Seamless Drupal 8 transition
In concurrence with the redesign, Redfin upgraded the Scholars Strategy Network website to Drupal 8. Redfin developers performed content migrations that funneled existing content into the new information architecture, eliminating time-consuming manual content entry. As part of the upgrade, Redfin added the Paragraphs module, which gives SSN the flexibility to easily add new content and create layouts while maintaining stylistic consistency.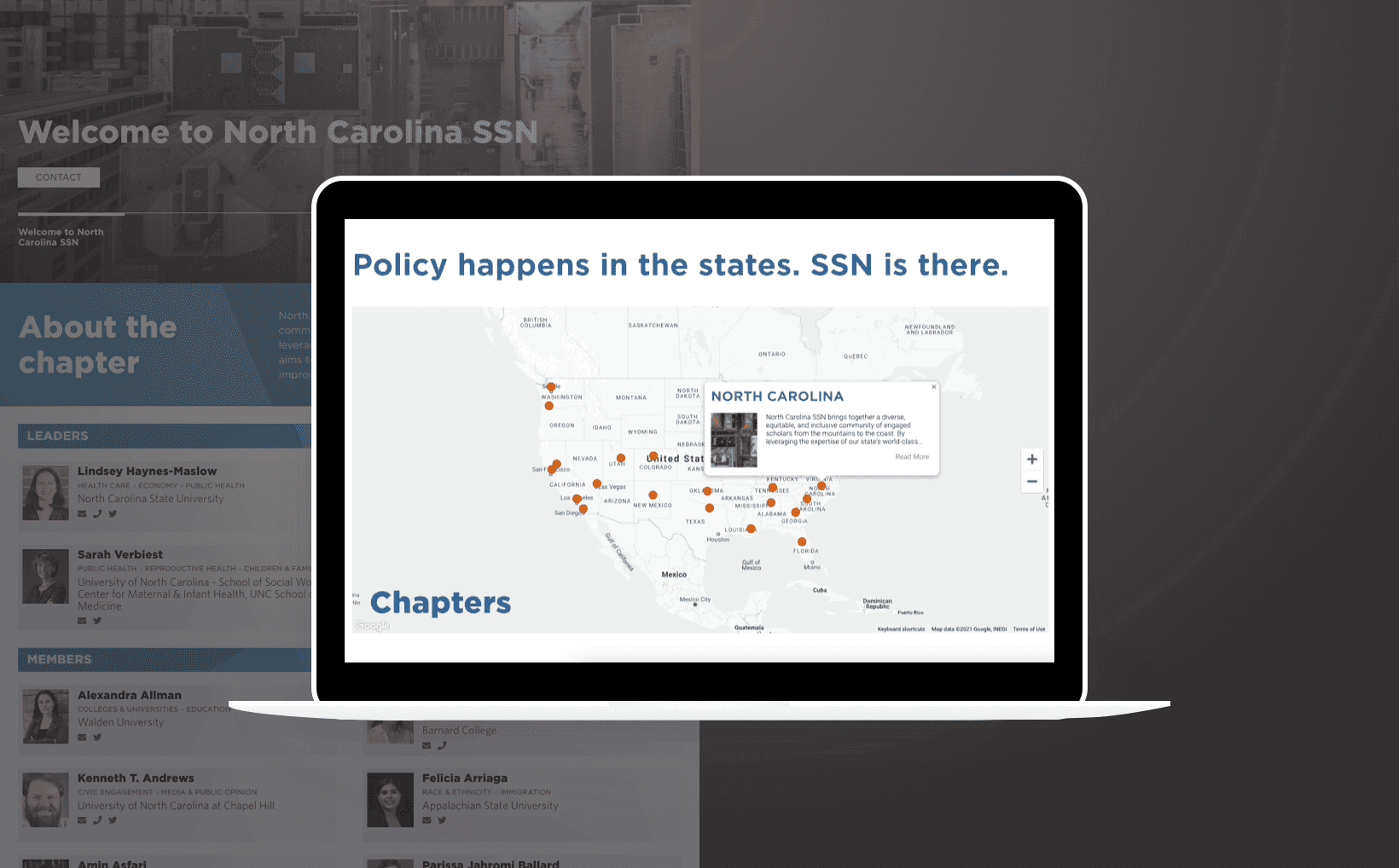 Redfin Solutions offers customized ongoing support to work with our clients throughout the life of their Drupal website. We train content managers, develop new features, and maintain security through regular updates. Contact Redfin today to learn how we can support you.
Visit Project