The Massachusetts Institute of Technology (MIT) Abdul Latif Jameel Poverty Action Lab (J-PAL) was founded in 2003 by Professors Abhijit Banerjee, Esther Duflo, and Sendhil Mullainathan. They started the lab to reduce global poverty by ensuring that policy is informed by scientific evidence. In 2019, two of the J-PAL founders, Professors Abhijit Banerjee and Esther Duflo, along with Professor Michael Kremer, were jointly awarded the Nobel Prize in Economic Sciences for, "their experimental approach to alleviating global poverty." Together, they have transformed how the world approaches the global poverty problem.
J-PAL joined Redfin Solutions as a long-term client back in 2016. They chose us because of our ability to optimize their website povertyactionlab.org by integrating it with Salesforce and saving them time. Redfin also offers supportive ongoing relationships with our clients, which J-PAL took advantage of early on. We maintain their website to keep it secure and up-to-date, as well as to create any new features they request. By working closely with our clients, we become an extension of their internal team. J-PAL can rest easy knowing that Redfin Solutions will bring their website up to par with best practices and their vision for their website to the next level.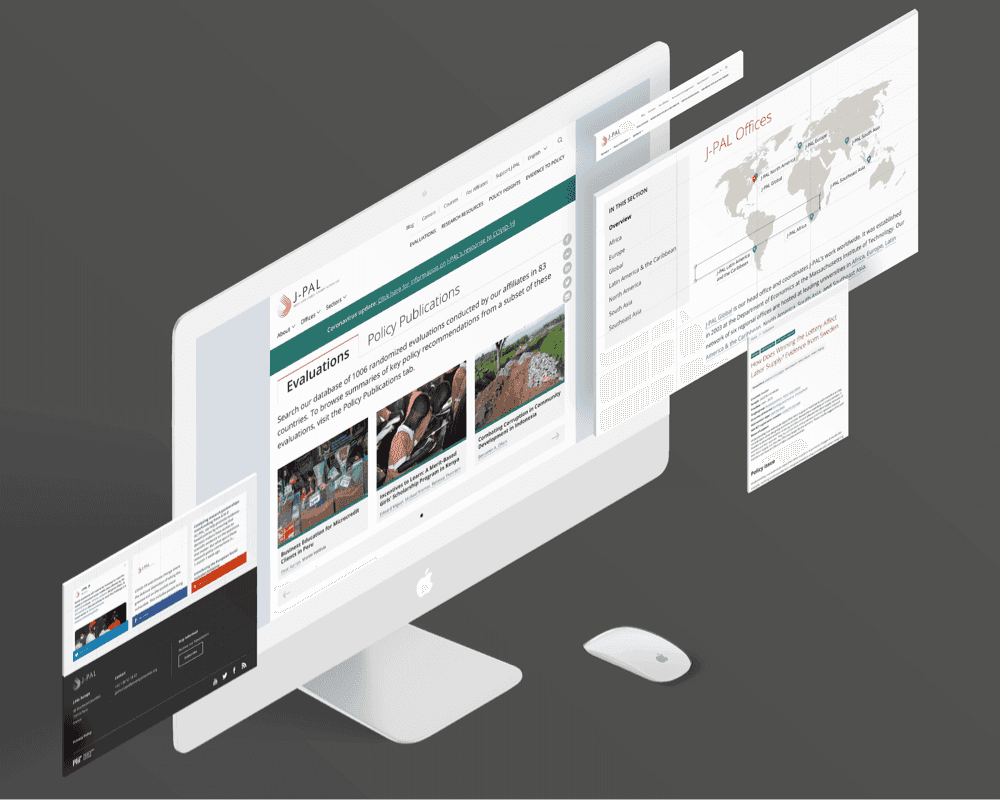 The J-PAL website povertyactionlab.org was already on the Drupal 7 platform when we started working with them. The robust content management system is perfect for their large and complicated website because Drupal is an open-source content management system (CMS), which means it is free, customizable, and always improving. However, Drupal 7 end-of-life is set for November 2022, when it will no longer be updated and supported by the Drupal Association. All Drupal 7 websites need to migrate to the next version of Drupal to continue receiving the security fixes, updates, and enhancements provided by the community. The Drupal 8 platform is written in a different methodology (it is object-oriented rather than procedural), which means migrating a website requires rebuilding it from scratch. J-PAL knew they needed trusted experts for the project, so their first step was recruiting the Redfin team.
After agreeing on a timeline and budget with the J-PAL team, this would become one of the most extensive projects that Redfin Solutions has taken on. The Drupal 7 to Drupal 8 migration is complicated for any website, but J-PAL is a global organization so the Drupal 8 website needed to be multilingual, the Salesforce integrations we had created needed to remain, and all the legacy content on povertyactionlab.org needed to be migrated to the new platform. However, the Redfin team was well prepared to take on this project due to our deep understanding of povertyactionlab.org and our previous experience with similar migrations. 
"I'm so grateful to Redfin for their work upgrading J-PAL's website to Drupal 8. Their team of talented developers, designers, and project managers really listened to our organization's needs and helped us prioritize them to facilitate a smooth migration." -- Mariele Ventrice, Senior Digital Communications Associate of J-PAL Global
The goal was to spend seven months recreating povertyactionlab.org on the Drupal 8 platform so that, besides small changes to the design and structure to reflect best practices, the end user would not notice a major difference between the two websites. The content editors and website administrators would get a new custom backend theme and a simplified user experience that follows modern best practices.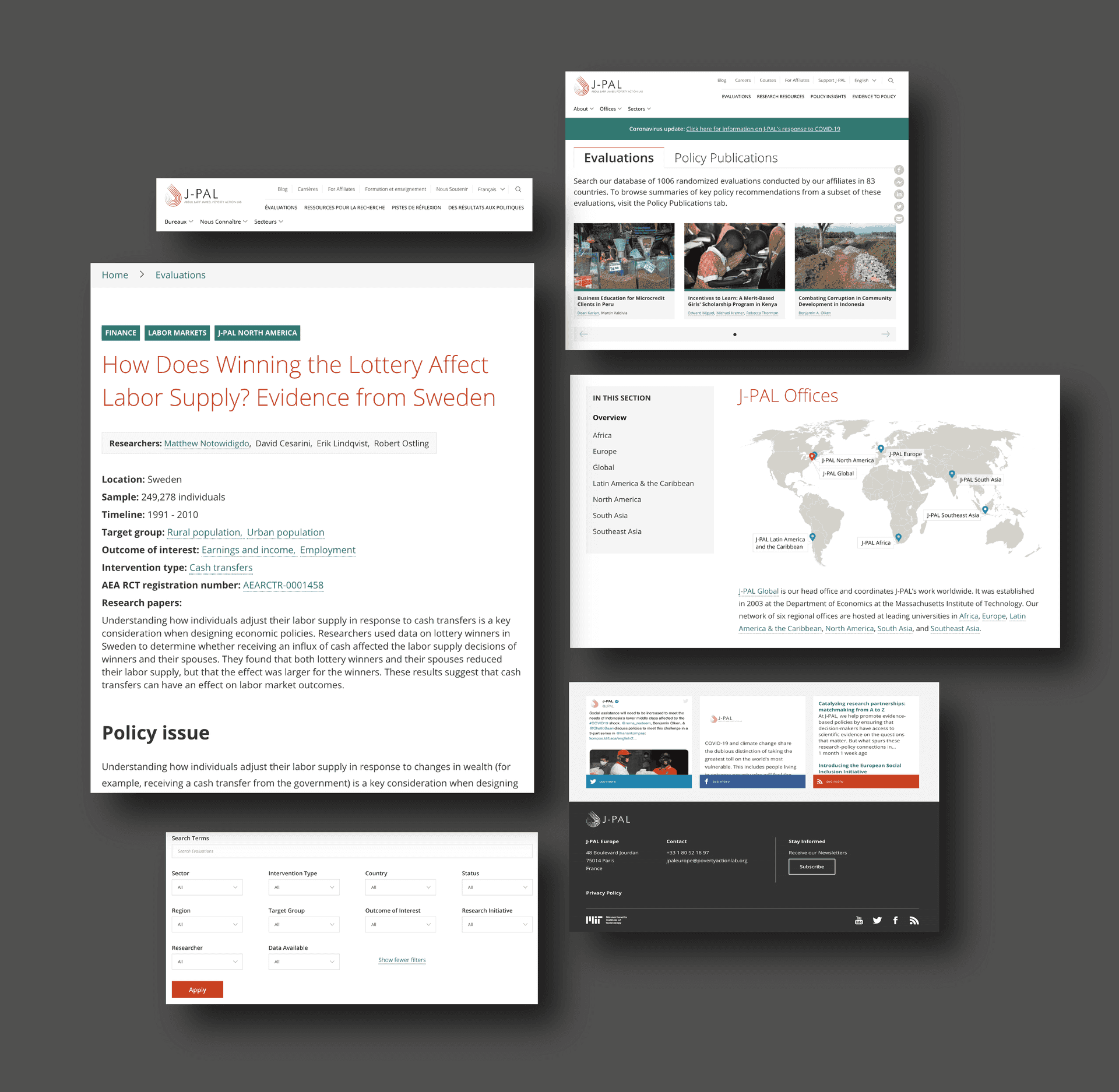 The J-PAL Drupal 7 website was set up to use broad WYSIWYG fields to put data into the website. This meant that the structure and presentation of the content was unorganized and inconsistent. Before migrating to the new website, the Redfin team audited all the content to match different kinds of data to specific fields. We cut unused fields and created new ones specific to each dataset. This new structure organized the data and set the stage for consistent data input in the future. For instance, rather trying to consistently size, crop, and style images with body text, we automatically formatted images to adhere to the style guide. We streamlined the process and ensured consistency across the website to save the J-PAL content editors' time.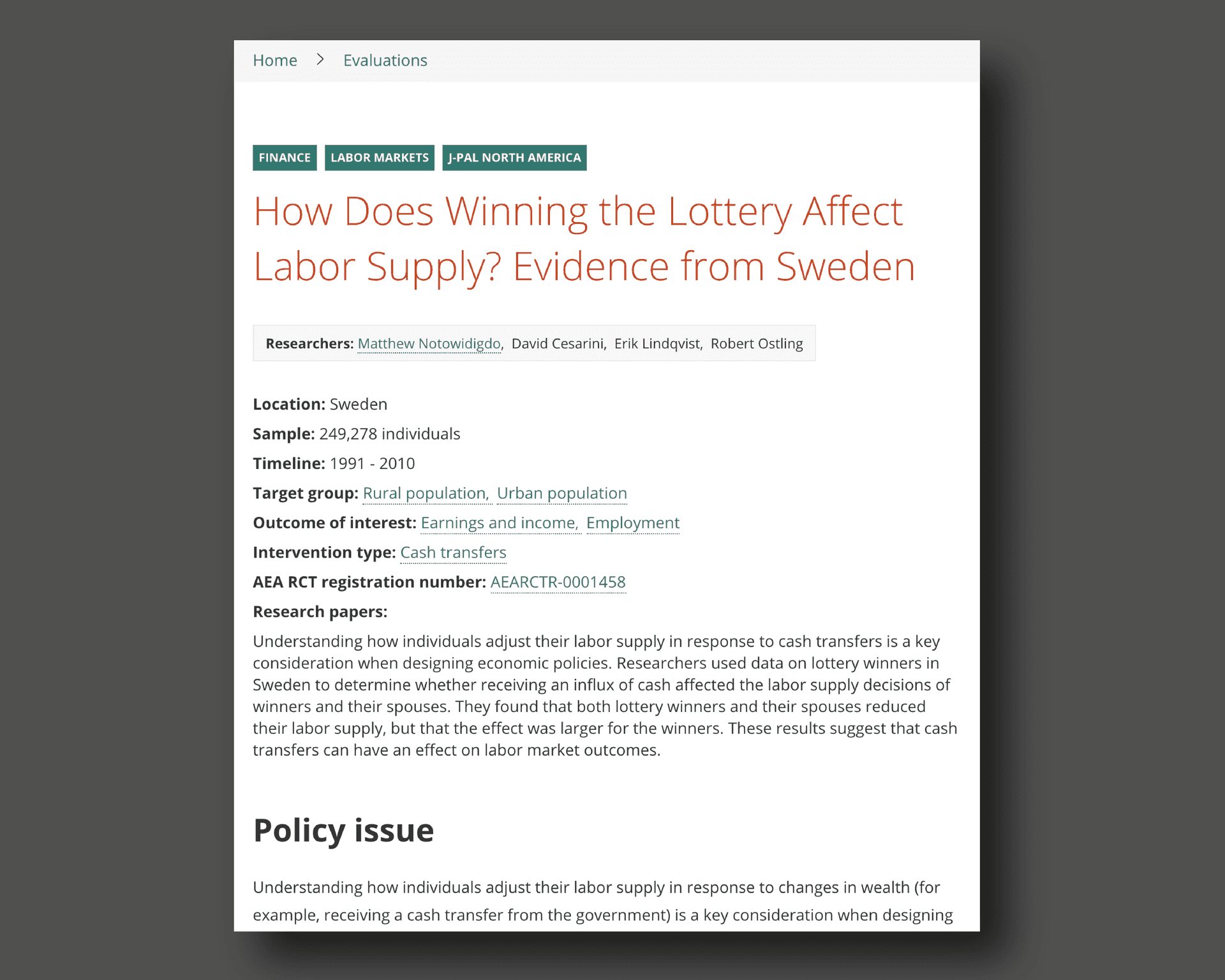 Because the Layout Builder module is built into Drupal 8 core, the Redfin team rebuilt povertyactionlab.org without its prior reliance upon Panels, a third party module. We used Layout Builder to add block components on landing pages, while we used the Paragraphs module for simpler basic page components. Since povertyactionlab.org has been a Drupal website since Drupal 6, there were a lot of custom legacy modules and code. Migrating the content into specific Paragraphs fields required auditing and adapting each content type so that it was displayed and stored according to modern best practices. Now, J-PAL content editors can rearrange content on a page by dragging and dropping rather than writing all the copy into one field. This ease of use gives the many J-PAL copy editors more freedom over their own website while still ensuring global consistency.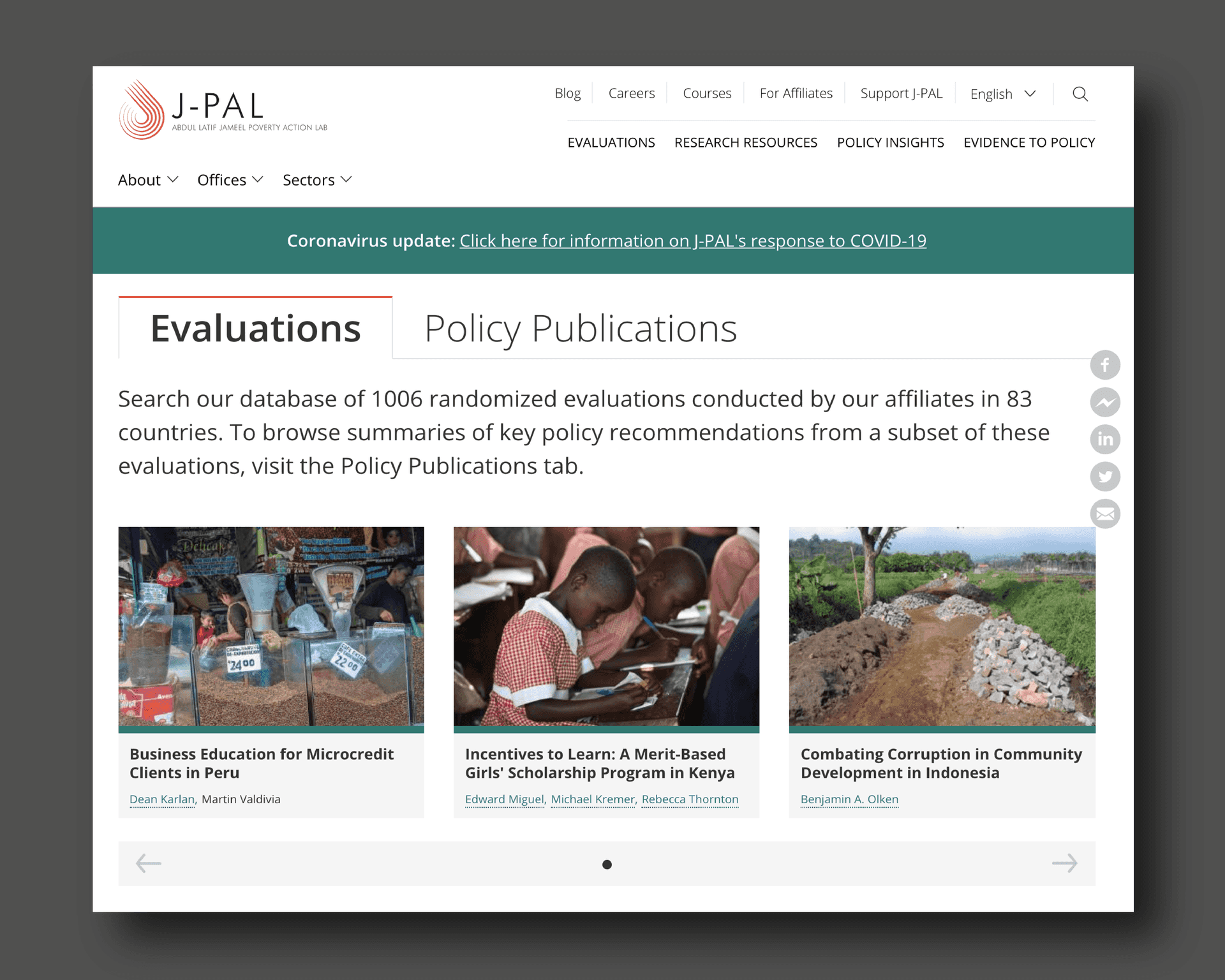 "They worked within our budget to make vast improvements to the site's architecture while maintaining all the functionality of the Drupal 7 site, and they collaborated with our design team to incorporate accessible and user-friendly style standards." -- Mariele Ventrice, Senior Digital Communications Associate of J-PAL Global
Another specific qualification for the new J-PAL website was to migrate the multilingual content from the WYSIWYG fields into the appropriate Paragraphs. There is little documentation or agreement on the best way to do this, so the Redfin team researched current strategies and, in some cases, developed new ones. Read our blog to learn more about how we implemented and displayed the multilingual views in Drupal 8. Now, the menus, views, Paragraphs, and Layout Builder blocks are all translatable in three languages on provertyactionlab.org. Adjustments like this allow users from all over the world to learn about and benefit from J-PAL's work.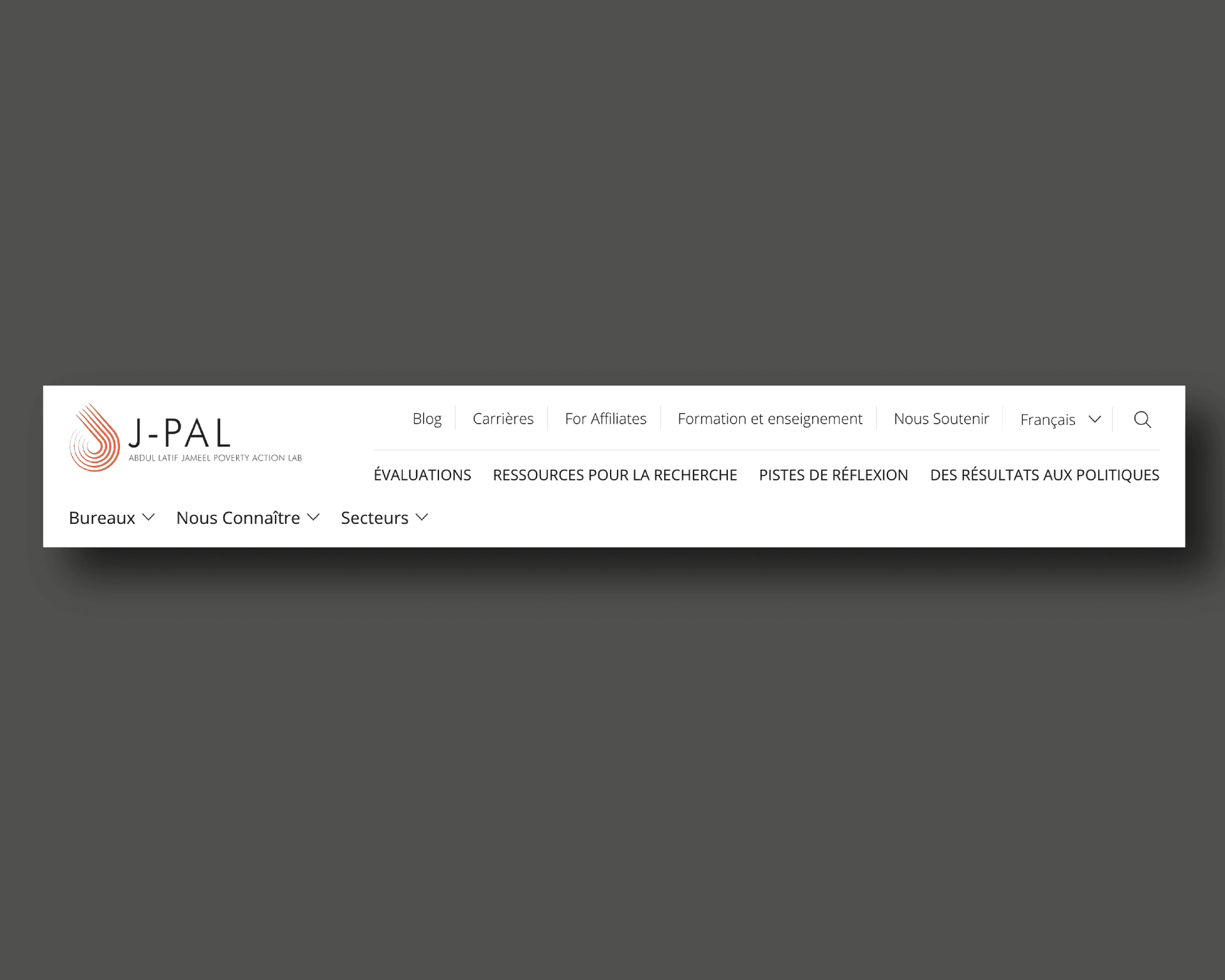 During the migration, the Redfin team organized the way media such as videos, images, and pdf files are stored in povertyactionlab.org. We implemented an asset library which creates a single searchable place for all the J-PAL media. With that in place, content editors and website administrators can easily find media that is currently on the website and reuse it in a different page without wasting time.
Another large change for J-PAL's Drupal 8 website was the addition of the enterprise search platform Solr. The Redfin team moved all the indexed content from a database index to Solr to create a more performant and searchable backend for povertyactionlab.org. The lightning fast searching and dynamic filtering allow users to explore the new Drupal 8 website with more efficiency than ever.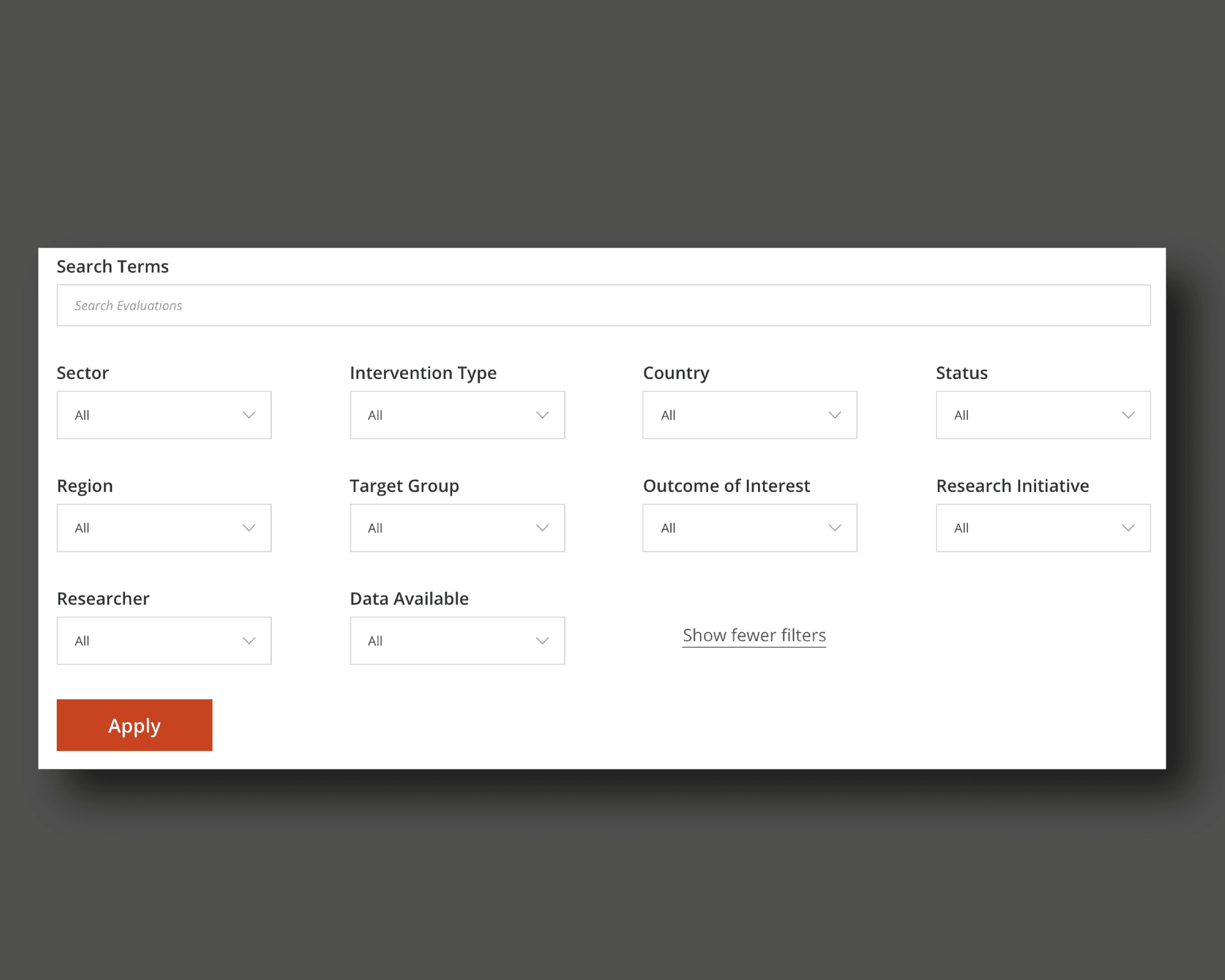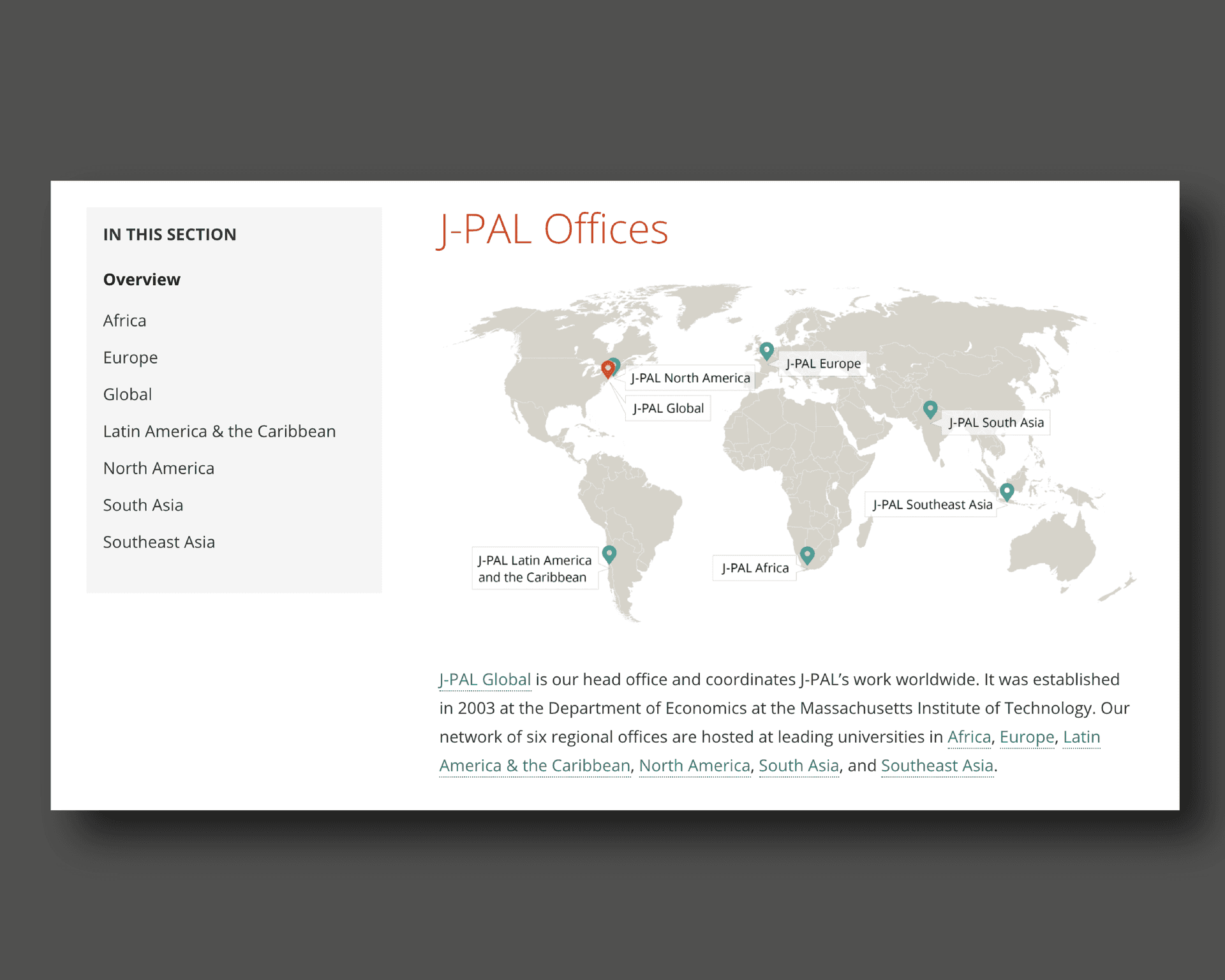 "What really sets Redfin apart from other firms is their adaptability to changing circumstances and demands. J-PAL operates in a niche academic space that can be difficult to navigate. However, without skipping a beat, Redfin responded with creative solutions to all of the challenges we encountered." -- Mariele Ventrice, Senior Digital Communications Associate of J-PAL Global
Redfin Solutions' method of integrating with our client's team allowed us to effectively execute this complicated project within the time and budget constraints. Mariele Ventrice, the Senior Digital Communications Associate of J-PAL Global, was our constant contact with J-PAL. We created a Slack channel with her to communicate seamlessly between the two teams. Throughout the project, we were able to adapt to changing priorities and developments, while minimizing wait times and maximizing productivity. After the J-PAL Drupal 8 migration project finished on time and on budget, povertyactionlab.org was more efficient for both end users and content editors. The new data structures allow the content editors and administrators to focus on sharing J-PAL's work and connecting policy makers with scientific evidence to reduce global poverty. When it comes time to upgrade the website to Drupal 9, the Redfin team has ensured a seamless transition now that their website is optimized for the future of Drupal and the future of J-PAL.
J-PAL remains an ongoing client with Redfin Solutions. Now that the initial work of rebuilding povertyactionlab.org is done, we are iterating and adding features that were not necessary for the launch of the Drupal 8 website. Visit povertyactionlab.org to explore the advancements of the Drupal 8 upgrade and contact us for more information about how Redfin Solutions can advance your website.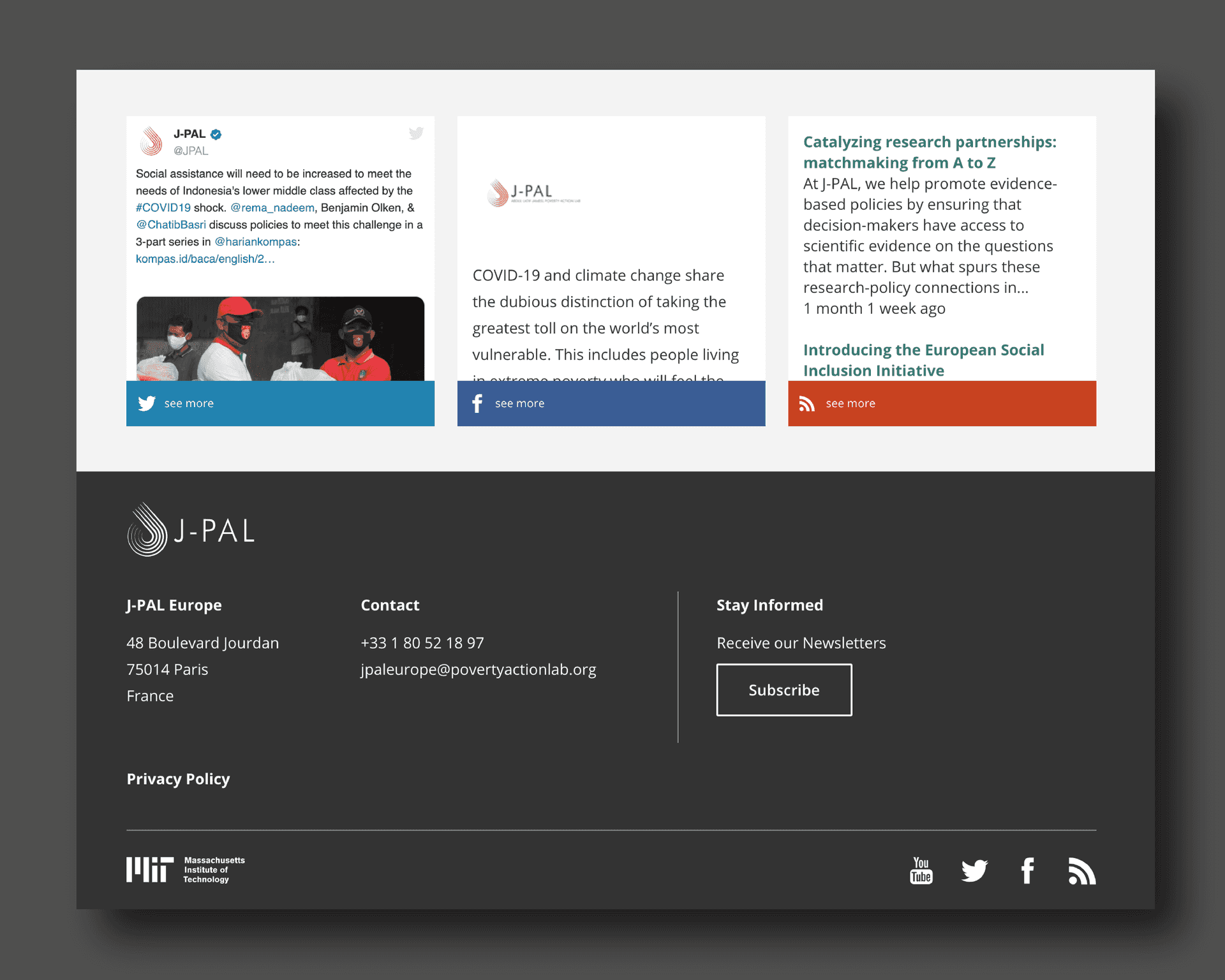 Visit Project