Redfin Solutions has partnered with Hillsborough Community College (HCCFL) since 2020 to design and build new features for their public website, offer strategic support, and provide ongoing maintenance—including an upgrade from Drupal 8 to Drupal 9. Located across multiple campuses in Hillsborough County, Florida, HCCFL is one of the state's largest community colleges offering online and hybrid learning options.
HCCFL came to Redfin Solutions with the need to quickly create and manage multiple microsites used by various departments across the college. Redfin Solutions proposed the Redfin Delta Site System™ (DSS), which gives HCCFL the capability to launch new web sites from a single code repository. This solution makes it easy for the college to maintain several sites while adhering to consistent design and configuration patterns, as well as responding with flexibility to the needs of students, faculty, donors, and administration.
Redfin Solutions utilized Drupal due to its flexible content architecture and built-in features. This makes it a great match for HCCFL and other higher education institutions. HCCFL was happy with their existing Drupal website, so we migrated their site from Drupal 8 to Drupal 9 as a starting point for our work.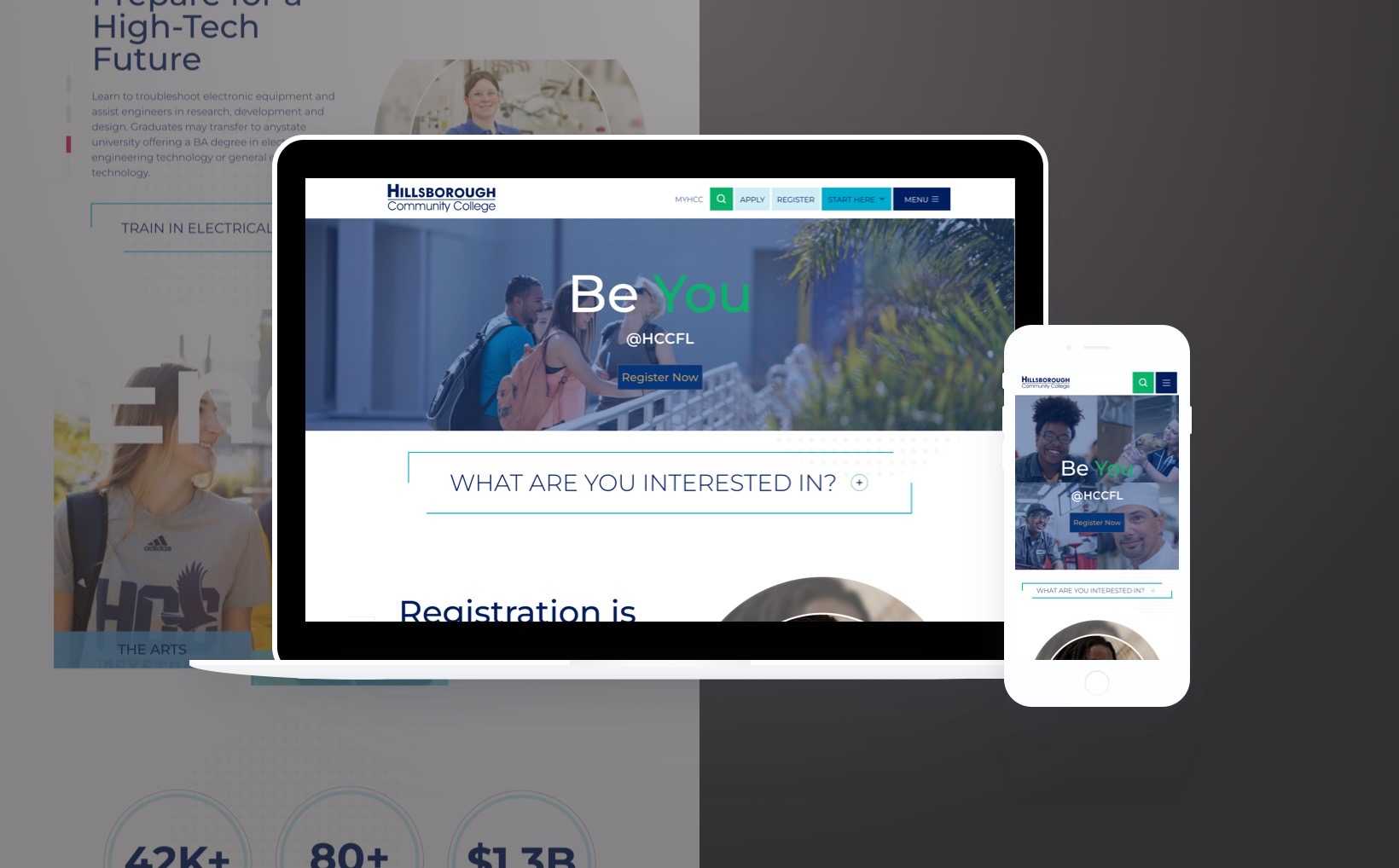 The Project
HCCFL expressed the desire for new and updated features to enhance the user experience for students, prospective students, and faculty. The site was functional as it was, but the client wished to bring in more features and update the ways that a user may navigate the site. 
The site makes heavy use of the digital asset manager, Bynder, a product development tool that provides file organization, creative content platform integration, asset management, and more. In addition to this upgrade, we implemented Bynder's Dynamic Asset Transformation System, which simplified processes for both the development team and HCCFL administration to gain access and make changes or updates.
Redfin Solutions also addressed updates to HCCFL's alert system, Rave Alerts. Rave is a critical safety platform that notifies persons across HCCFL campuses of incidents and  impending natural disasters characteristic of Florida's geography, such as hurricanes. The existing alert system was an unsupported custom solution that our team upgraded to keep up with the latest coding standards.
Our team also cleaned up call-to-action content, which aims to help the user find what they need based on their status at the college. Redfin Solutions clarified the existing CTAs to improve the website experience of prospective students versus enrolled students (i.e. looking for enrollment information versus a class assignments portal).
"In our years of working with them, the project managers and developers at Redfin Solutions have proved to be extremely capable and responsive. They are flexible in the services they provide, allowing us to grow our own internal capabilities while providing technical support for those areas where we have less expertise. This flexibility has allowed us to grow as an organization while also enhancing the features of our sites." - Keith Belton, Ph.D, Web Engineer at Hillsborough Community College
Website Redesign and Upgrades
A few new components were built to freshen up the homepage, including an Instagram component to feature the college's latest Instagram posts. A new homepage hero image was set in place to emphasize a "Register Now" button.
Our team collaborated with HCCFL to upgrade their website in a way that would best suit their needs. Rather than migrating all content to a new site, Redfin Solutions upgraded it in place. Doing so was a time- and cost-efficient route that worked seamlessly in keeping the site updated without creating unnecessary drastic changes.
Redfin Solutions optimized maintenance efficiency after discovering a large JavaScript file containing thousands of lines of code. The JavaScript code contained all custom functionalities for the site into one file, which was disorganized and was difficult for our developers to work with. The file was broken down into independent pieces and attached only to areas they were relevant to. This made it easier for our team to provide maintenance and keep track of custom code.
"Redfin Solutions helped us design and implement an upstream site template that we can use to quickly deploy new sites that contain all the base features we need, and also allow us to customize each downstream site. It is a powerful and flexible solution to help us address the needs of our internal clients." - Keith Belton, Ph.D, Web Engineer at Hillsborough Community College
Mobile Redesign
One of the first issues resolved when we started working with HCCFL was assisting their site administrators in updating their mobile calendar page, which features location filtering and day, week, and month views. Our team worked to create a much more user-friendly calendar with features that work more smoothly than when we found them.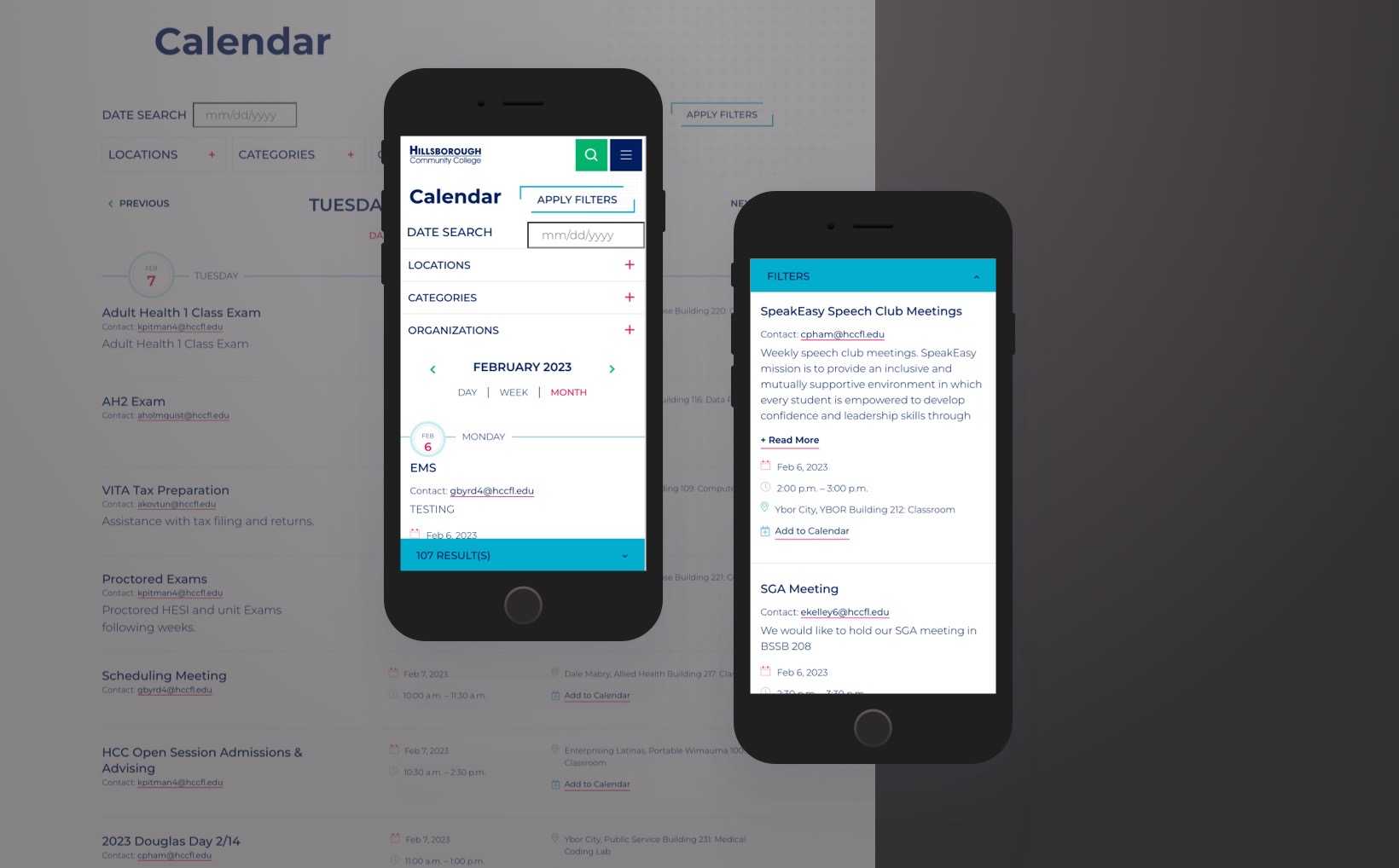 Strategic Guidance
Our team utilized SiteImprove, a service that regularly audits a website for accessibility issues, broken links, and overall good content structure. We also monitor that all SEO meta tags are up to date, and that they work compatibly with the college's social media platforms.
Continued Support
Following these changes with HCCFL's site, we provide solid maintenance to maintain the integrity of the upgrades we've set in place. Redfin Solutions continues to provide mentorship and steady support for HCCFL, and is ready for any future alterations they'd like to implement in the future.
Visit Project