Dartmouth's Advancement Division uses its digital properties to create meaningful engagement with alumni and maximize gifts in support of the College. The Division—made up of the offices of Alumni Relations and Developments—is charged with conveying the vision of one of the world's leading liberal arts colleges. 
Redfin Solutions began partnering with Dartmouth in 2019, when our team was brought in to support a growing list of websites maintained by the Advancement Division. Redfin developed a custom Delta Site System that gives Dartmouth the ability to quickly and easily spin up new sites starting with a given set of elements that can be customized to meet diverse needs. With Redfin's support, the Dartmouth Advancement Division now maintains dozens of unified websites for departments, campaigns, events, and conferences.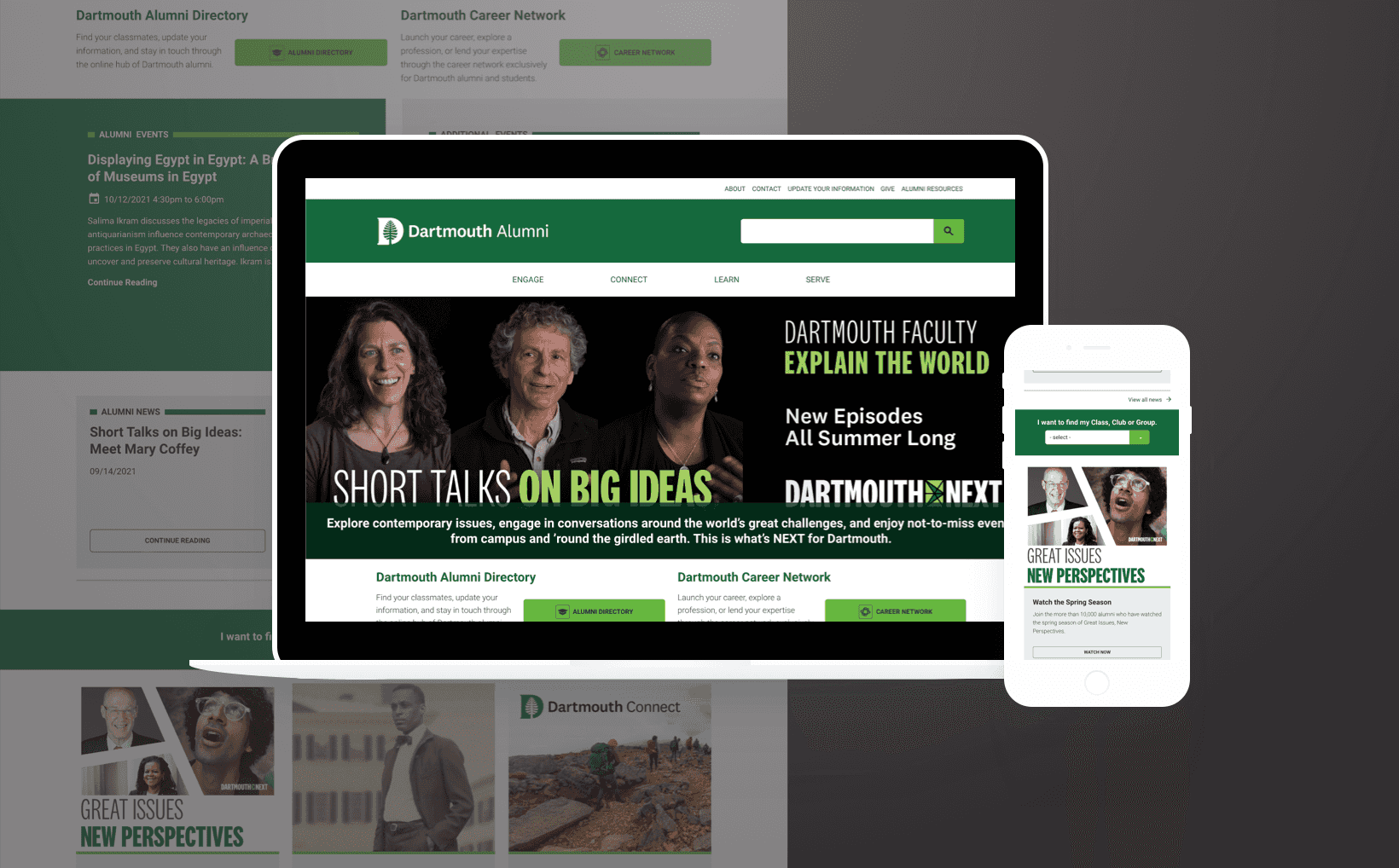 The challenge
Prior to working with Redfin, the Dartmouth Advancement Division maintained a handful of websites that had been pieced together over time using a number of different content management systems and frameworks. While several sites were already using Drupal, these also varied widely in modules and themes used as well as content entry paradigms. The team was having difficulty maintaining these sites and delivering a cohesive web presence. 
The primary goal of this project was to create a unified content management paradigm for more efficient website maintenance and to make it easier for Dartmouth to quickly spin up new brand-aligned websites. At the same time, Dartmouth wanted to ensure that individual sites could be customized to cater to specific audiences and ultimately inspire alumni engagement.
The solution: a scalable Drupal site system
To deliver scalability and flexibility, Redfin set Dartmouth up with a custom Delta Site System, a Redfin solution powered by Pantheon's Custom Upstream technology that gives Dartmouth a "toolkit" from which new websites can quickly be deployed. These new websites can use the same styles and components, modules, and configuration, while also allowing for customization at the site level.
Unified components and flexible layouts
Dartmouth Advancement websites use the Paragraphs module to populate the majority of front-end content. Paragraphs are website components in which content can be entered, similar to a collection of standard fields. For Dartmouth, Paragraphs range in complexity from simple text and image elements to interactive progress bars that calculate the percentage of funds raised. While Paragraphs are pre-defined to maintain some consistency across websites, Dartmouth's Paragraphs are custom-built to accept Bootstrap CSS classes, giving site editors with some technical skills the ability to create near-infinite flexible layouts.
Spinning up sites in minutes
With the Delta Site System in place, the Dartmouth team is able to launch websites on their own in a matter of minutes! These sites can be further customized with additional modules or designs with the help of the Redfin developers as needed, or Dartmouth content editors can use a mix of Paragraphs and flexible style options to create unique content and layouts on their own. This flexibility—combined with the peace of mind that comes from unified security and feature updates with the Delta Site system—has allowed Dartmouth to respond with agility to stakeholder priorities and user needs.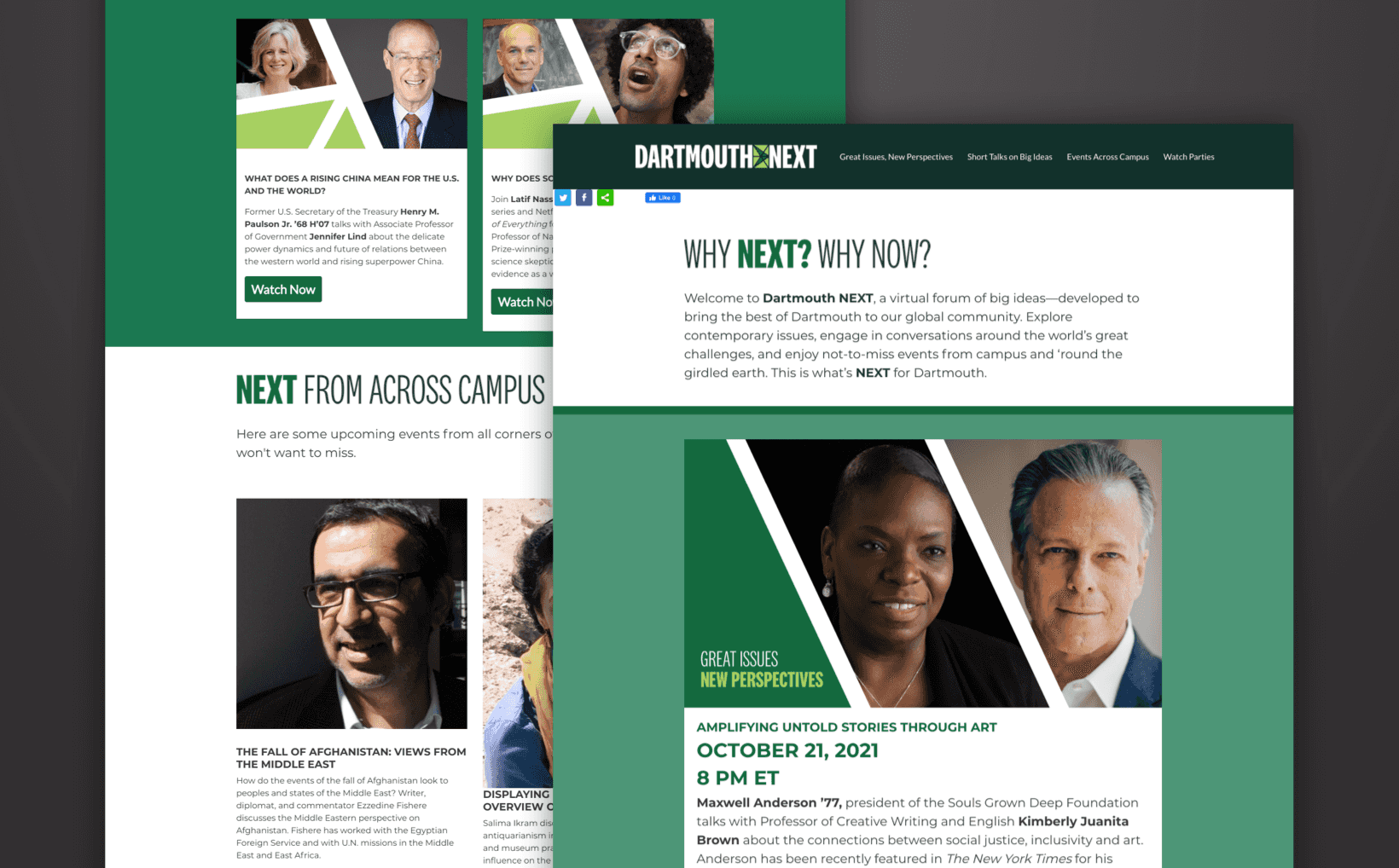 Custom site-level integrations
Several of Dartmouth Advancement's websites are integrated with third party databases and software to ensure up-to-date information, reduce unnecessary replication, and save time. Campaign websites are synced up with constituent engagement management software, so that accurate information about funds raised can be dynamically displayed. Other websites are integrated with third-party database solutions like Airtable so that content can be updated in one place and published directly to the web.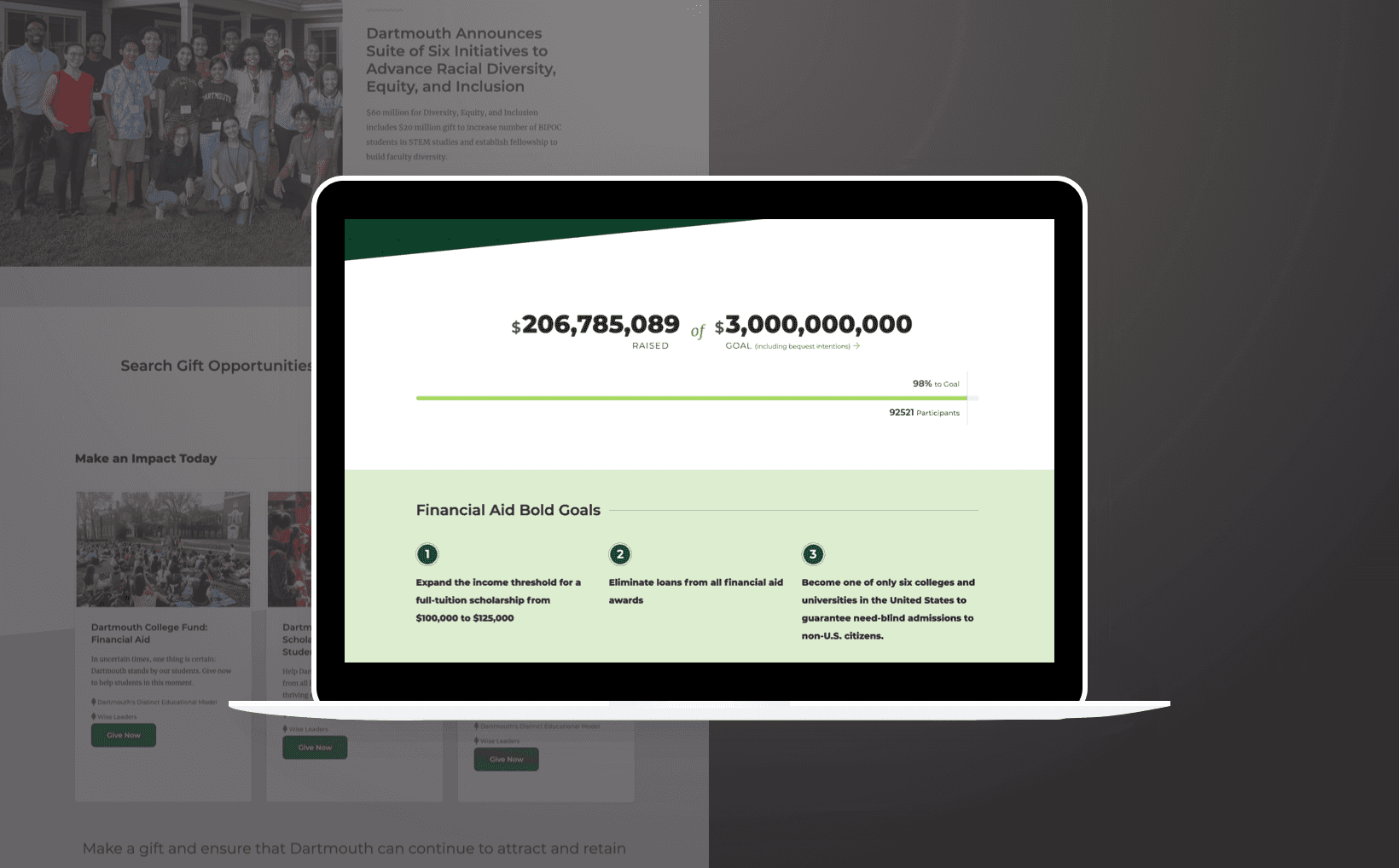 Efficiency, ease, and engagement
Unifying and streamlining Dartmouth Advancement Division's website ecosystem has freed up staff time to focus on new features, supported raising funds for a multi-billion dollar campaign, and increased opportunities for engagement with alumni. Dartmouth Advancement now easily maintains dozens of websites customized for specific audience groups and opportunities. The ability to respond quickly allows them to deliver value based on regular user feedback and analytics.
Visit Project