The Rural Aspirations Project was created to expand educational opportunities in rural Maine that develop and honor the community while stimulating the innate curiosity of the students and teachers. When the Maine state government shut down the schools in March, 2020, to limit the spread of COVID-19, parents and teachers found their roles turned upside down. Rural Aspirations saw the need for a service and created Community Learning for ME (CL4ME). The new website was meant to address immediate needs in the community: collegial support for teachers, a way for organizations to explore and pilot innovative virtual connections, and a quick and easy resource for families that are struggling to manage what some call "crisis schooling." 
Rural Aspirations originally used Wix to create communitylearningforme.org, and they were spending a few hours every day uploading and updating content. This time-consuming effort wasn't sustainable, since they also vet each organization before publishing those resources. There was no way to moderate content and no design to create a consistent user experience. And members of Rural Aspirations had no way of delegating content editor permissions to already vetted and trusted organizations. They wanted the freedom and automation to create accounts for an organization and allow them to manage their own page and resources. This would leave the members of Rural Aspirations free to connect teachers and parents with the appropriate resources. In light of this growing need, Redfin Solutions collaborated with Rural Aspirations to launch an improved Community Learning for ME website. What's more, it needed to be done before the end of the school vacation in April, which gave Redfin Solutions a two-week deadline for the project.
In spite of the deadline, Rural Aspirations trusted Redfin Solutions enough to spend extra time on the discovery and user experience design processes. They already had a clear understanding of their different users: students ranging from Kindergarteners to High Schoolers in need of an activity, teachers hoping to round out a weekly syllabus, parents searching for help as they navigate their new role in their student's learning process, and local Maine organizations hoping to lend a hand. Through a series of meetings, the Redfin team worked to uncover and prioritize the needs of these different users, including Rural Aspirations themselves.
"Working with the Redfin team allowed us time to visualize our ideas and get feedback from professionals about how to actualize those ideas on the new site." - Korah Soll, Rural Aspirations Project Founding Director
One aspect of this project that made it successful was having key members of the team included in every step. In each discovery meeting, we included a lead developer, a designer, and a project manager from the Redfin team. Having both a design and technical architect from the beginning and throughout the entire project ensured we didn't waste time designing features that couldn't be built in time, and that features were prioritized and adjusted based on the users' needs. With their trust and time we were able to focus on creating the right website for Community Learning for ME. 
The new website needed to be simple enough for users to orient themselves quickly, but dynamic enough to allow for quick access and resource discovery. We needed to keep the user journey short for each user group. In order to do that efficiently, Redfin Solutions created a flexible search and filter feature.  We designed three filterable resource landing pages (Resources for Students, Families, and Educators) to serve as the primary links in the global navigation, which allows the user to sort themselves into whichever category best suits their needs. To learn more about our discovery and design process for this project, read our blog "Creating a User-Centered Website."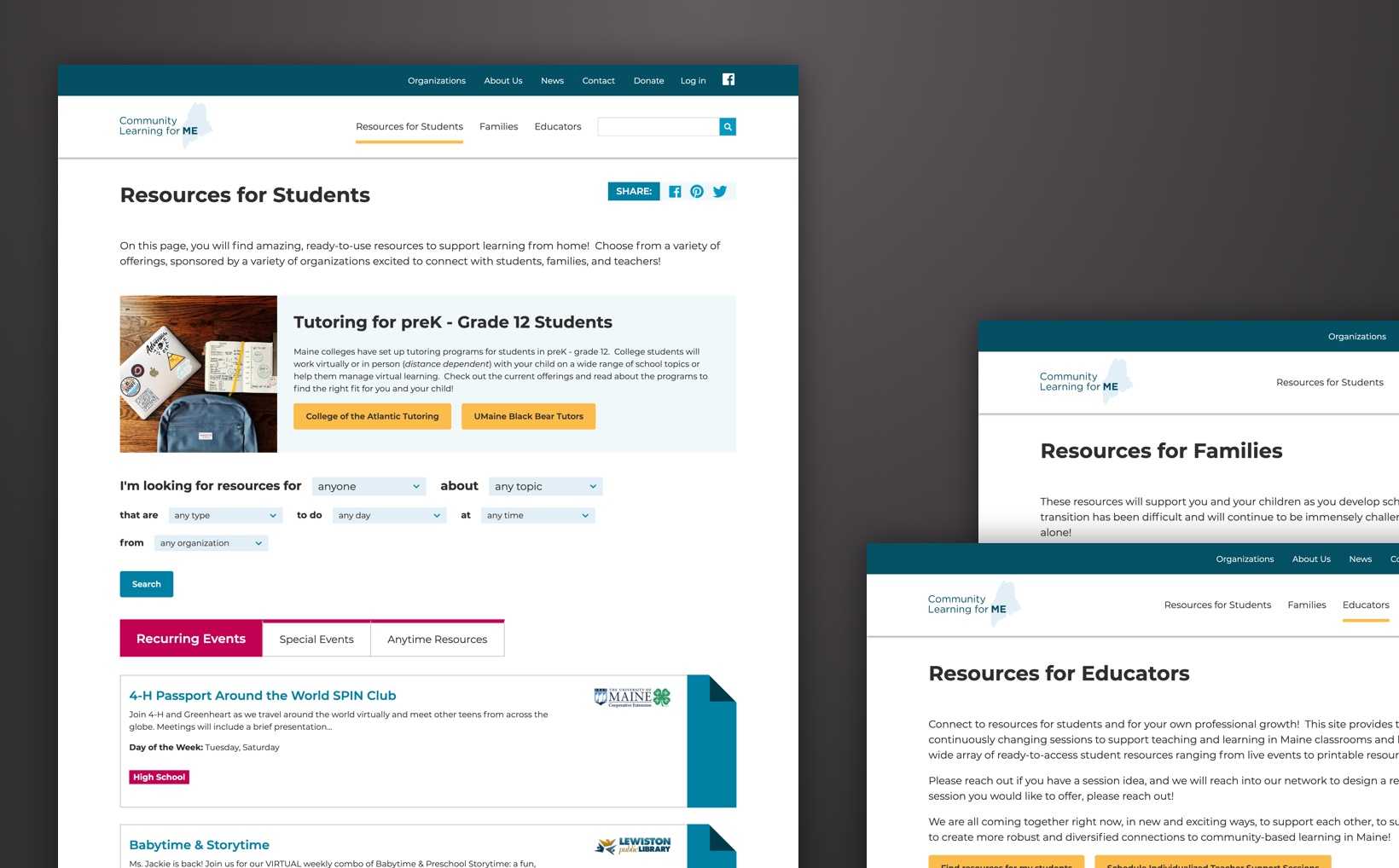 With Drupal, we were able to use taxonomy and views with exposed filters to empower the teachers and parents to find the perfect resource while enabling them to discover more. Users can filter and search by subject, age group, and duration for a resource that fits a specific need. They can also browse through the website to learn more about what Community Learning for ME has to offer. Teachers can find professional development support for making community connections. Parents can find resources to support them in engaging their child, and fun activities for their child to work on.
"This site has become a go-to resource for some teachers and organizations, and has spurred community/school partnerships that many not have otherwise happened." - Korah Soll
The new Community Learning for ME website is best served by Drupal because we were able to save time by sticking with mostly Drupal 8 core functions with only a few contributed modules added in, rather than adding unnecessary frills. We created a content editor experience focused on clarity and ease-of-use, as well as automation. Drupal allows Rural Aspirations to act as website administrators and grant trusted organizations access to manage specific pages on the website through a custom publication workflow. We also gave contributing organizations the ability to add and update their own resources, making use of Drupal's user permissions to limit them as needed. Before using Drupal, the administrators spent hours each day on a Wix website creating and updating resources manually. Now, with the time they save, they can focus on providing targeted support to those in the rural Maine community who need it the most.
"Because the site is interactive and locally-focused, the CL4ME planning team has been able to take feedback and suggestions and organize, create and advertise professional development activities quickly in response to direct teacher needs, which has been essential in this time shifting educational platforms." - Korah Soll

To learn more about how Redfin Solutions used Drupal to help our Maine community and Rural Aspirations in the wake of the spread of COVID-19 watch "Drupal on the Front Lines of COVID-19."
Visit Project