At Redfin Solutions, we strive to offer our clients holistic guidance to help them achieve strategic goals and create a long-term vision for their web presence. We also know that sometimes priorities change quickly. A website's flexibility is as important as scalability, and the stability of centralized web operations shouldn't come at the expense of limiting stakeholder decisions.
With these ideals in mind, we developed our Delta Site System (DSS) to help clients who have a need to quickly launch and maintain new Drupal websites. DSS gives Redfin's clients the ability to define a "template" website from which others can quickly be deployed. These new sites can use the same themes (look and feel), modules (enhanced functionality), and configuration (content types and taxonomies), while also allowing for customization at the individual website level.
For large organizations with decentralized governance or a large volume of websites to manage, our Delta Site System is a gamechanger. Let's take a closer look at how it works and the value it provides.
How the Delta Site System works
To build Delta Sites, we leverage Pantheon's Custom Upstream technology. In the Pantheon website management platform, an Upstream is a repository that acts as a parent for another repository. When changes are made to code or configuration, updates are pushed downstream, meaning from parent to child. A Custom Upstream is the parent repository for an organization or set of sites. For Redfin's Delta Sites, it holds an all-inclusive Drupal package custom-built to the needs of each client from which additional websites can be created.
Since each individual website still has its own independent "container" with a development, test, and production environment of its own, additional customizations can be made on the site level without affecting other sites. However, when important updates need to be made across the board, changes can be pushed to all sites without causing conflicts.
The diagram below helps explain the workflow.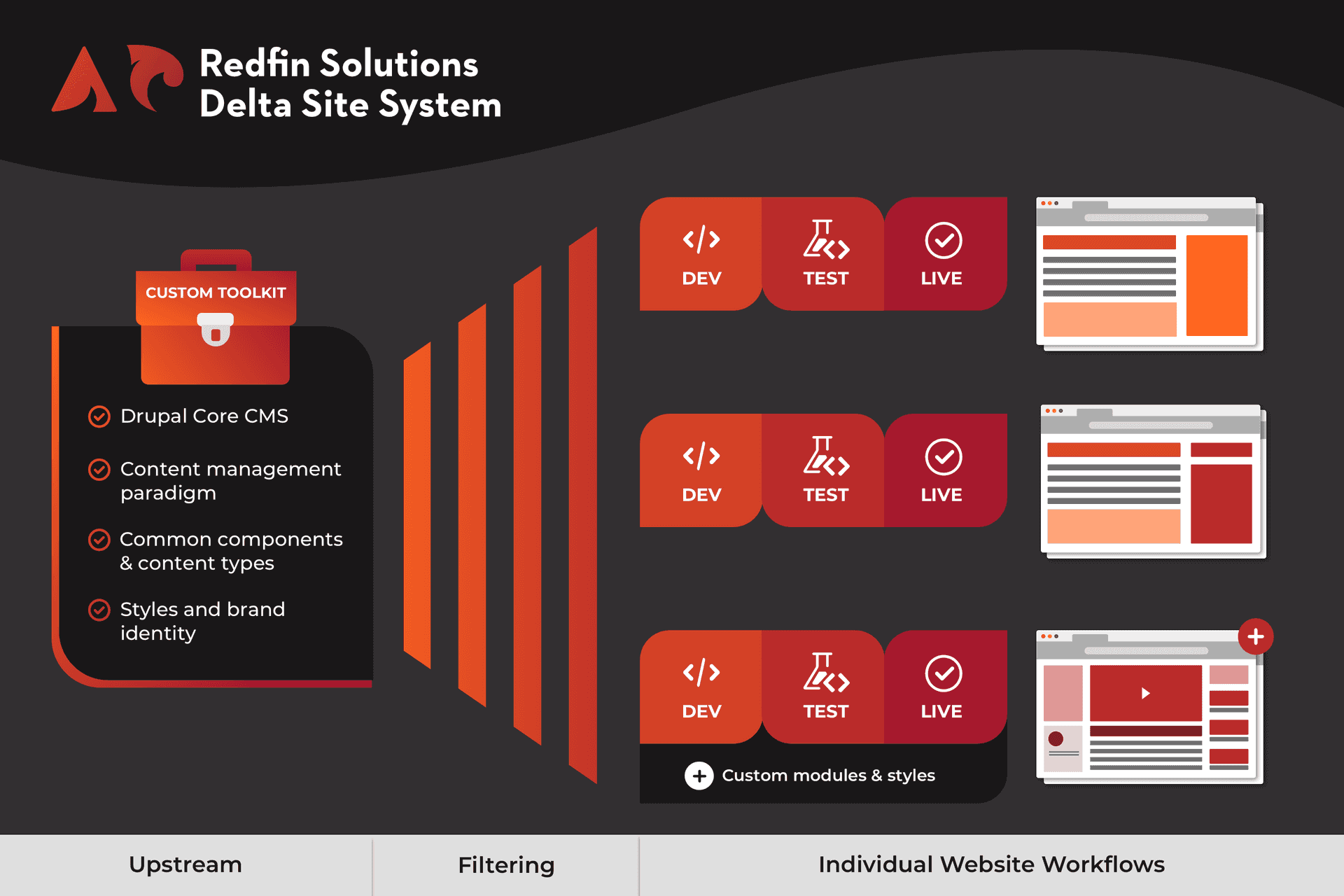 Reaping the benefits of the Delta Site System
So, how is this a game changer? Redfin's Delta Site System fills the gap between flexibility and scalability that's been historically hard to bridge by embracing the push and pull of cohesion and agility. 
Every Delta Site System we build for a client is customized for their specific needs and defined in Redfin's discovery process with the client—so there's no cookie cutter site cloning. However, our DSS clients will reap some of the benefits across the board.
Maintain standards across multiple websites
With a Delta Site System in place, it's easy for a client to determine which standards need to be maintained between their multiple sites and to ensure these standards are adhered to. For instance, it might be important that certain taxonomies are consistent from site to site so that content is organized in a similar fashion. Or maybe the standards are more stylistic, with items like menus, color palettes, and visual components remaining consistent across each site. Of course, security and technical standards are always maintained across every web property.
Provide flexibility to individual website stakeholders
At the same time, a custom-built Delta Site System allows for greater flexibility on individual websites because new functionality and features can be added without impacting other sites in the system. For instance, Redfin built a front-end paradigm using Bootstrap Paragraphs for a client with in-house knowledge of CSS, giving them near-infinite flexible layouts to use on dozens of distinct websites in their purview. For other clients using DSS, the flexibility to use custom features on certain websites helps prevent content editors on other sites from getting bogged down in irrelevant options, leading to streamlined publishing.
Reduce time spent managing web properties
Some of our clients have the bandwidth and desire to build new sites entirely on their own. Others rely on Redfin to help implement each Delta site. Either way, the Delta Site System reduces time and resources spent on managing feature and security updates on disconnected web properties and frees up developer time for building new features and components.
Re-use favorite components and features
Speaking of time savers, once an element is added to a website in a Delta Site System, Redfin can add it to a client's custom upstream to apply it to any and all sites in the system. That means there's no need to reinvent the wheel for every custom site request. For example, one of our clients has a Delta site with a content carousel feature enabled. If the feature becomes relevant for another one of their sites later on, DSS allows them to easily add it in, without spending extra money to develop the feature.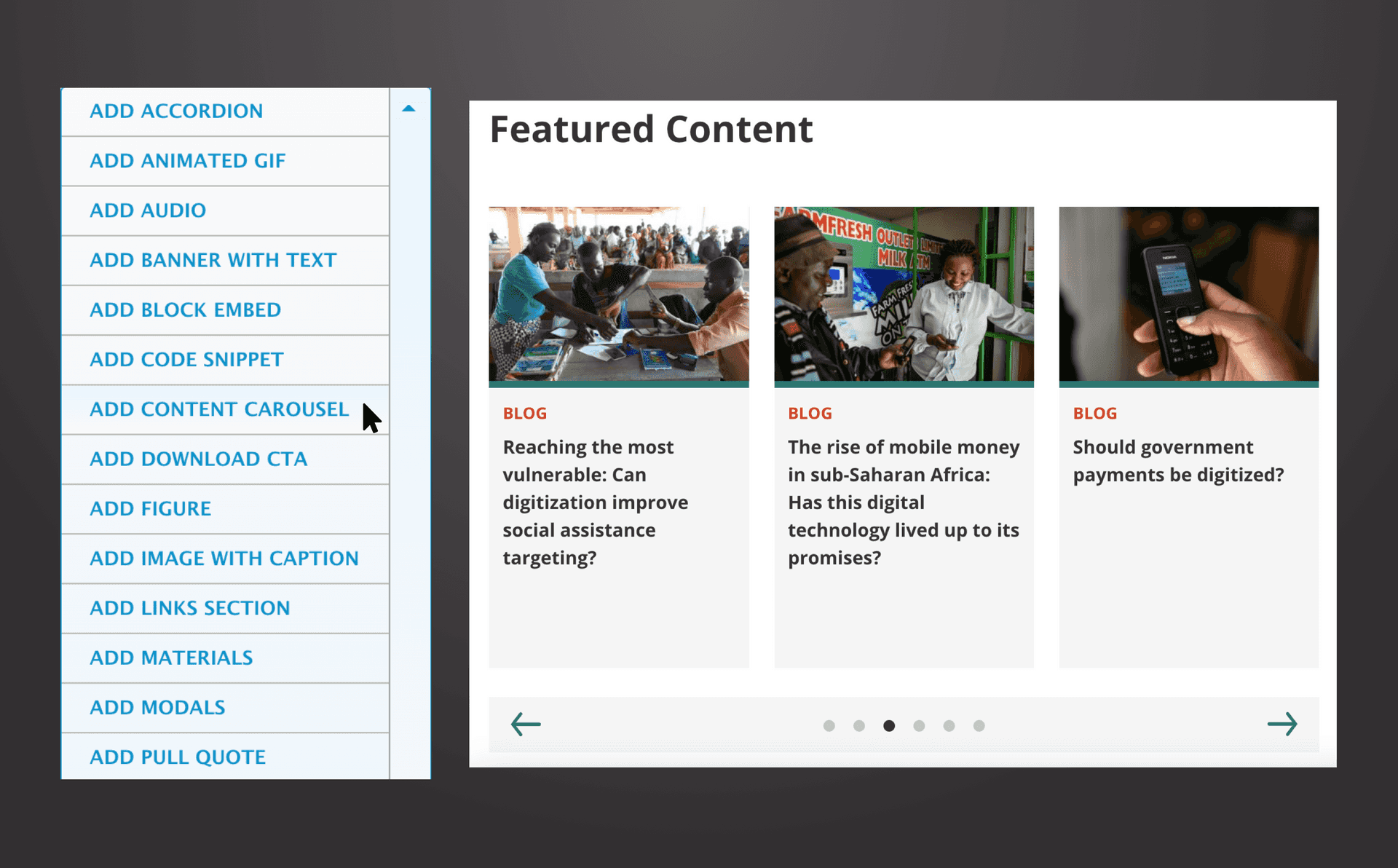 Make website management more accessible
Because launching a Delta Site doesn't require advanced technical knowledge and making a mistake on one website doesn't affect another, the Delta Site System expands the scope of who can administer websites. Rather than relying on one person or department for all website changes, more team members can be involved in the process, which can simplify workflows, give more folks access to web publishing, and reduce red tape for large organizations.
Use case: Dartmouth College
When Redfin began working with Dartmouth College's Advancement Division in 2019, the Dartmouth team was facing a challenge. In addition to their main web property the Alumni Relations website, they'd collected several other websites over the years, and each one was built using an entirely different paradigm. Moreover, the need for new websites—for campaigns, conferences, and events—was now increasing.

Redfin created a custom Delta Site System for Dartmouth that hosts their current websites and allows for the easy creation of new ones. Redfin built a custom collection of Paragraphs (or components) with elements such as accordions, carousels, and hero images. Then, using Bootstrap Paragraphs, Dartmouth site editors can apply Bootstrap classes to their Paragraphs to further customize the layout of a page.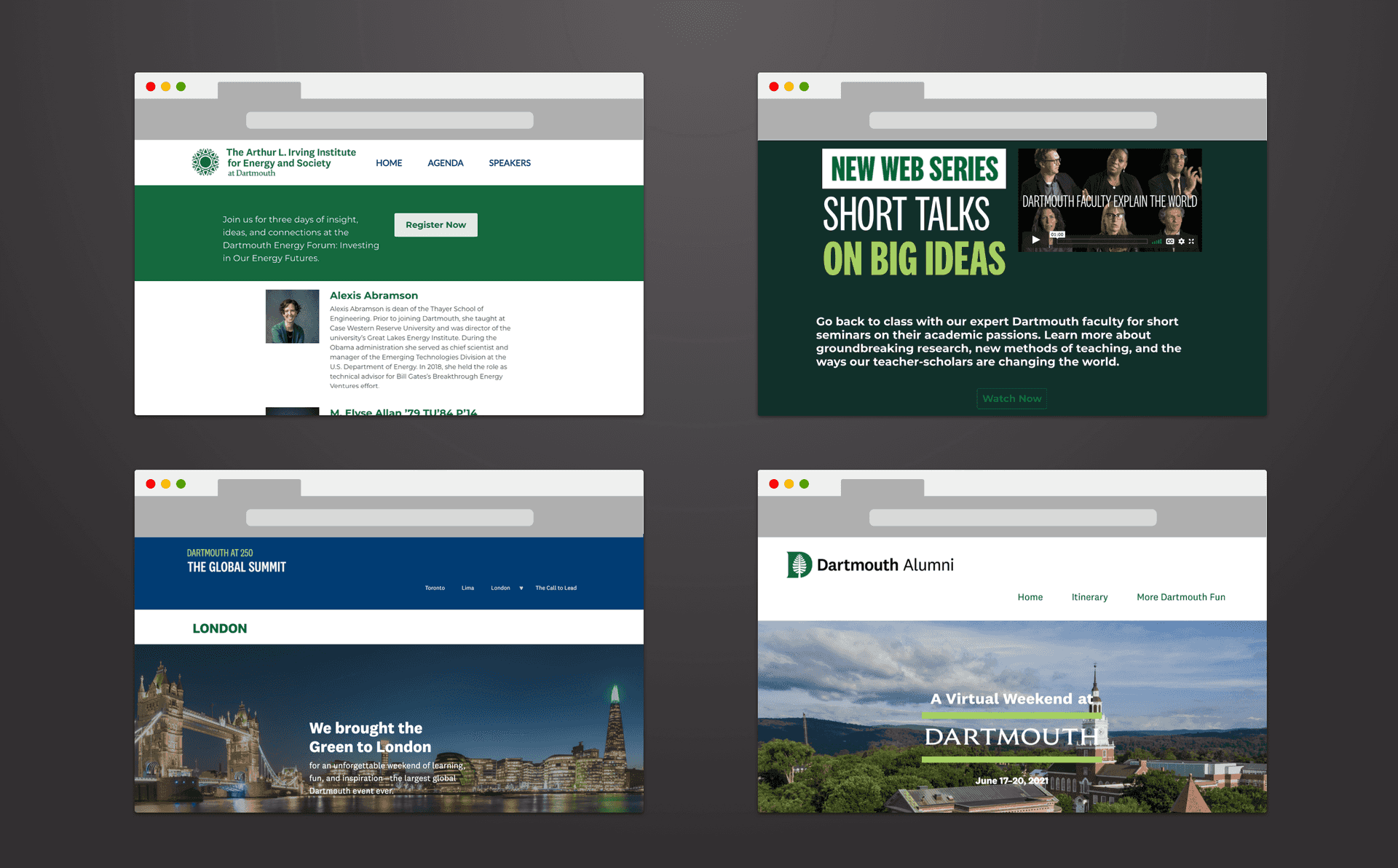 Redfin's Delta Site System has helped Dartmouth cut down on the time spent managing and standardizing ad-hoc websites while simultaneously giving more freedom to site administrators and editors.
Get started with the Delta Site System
The first step to getting started with the Delta Site System—or to see if it's the right fit for your organization—is a consultation with a member of our team. Reach out today to speak with Redfin Solutions about how we can help you define your web goals and make them a reality.