In 2019, the University of New England (UNE) worked with Redfin Solutions to upgrade their website une.edu from Drupal 7 to Drupal 8. UNE is the largest private university in Maine, spread across three campuses, including two in Maine and one in Morocco, and it provides online learning. UNE boasts nationally recognized programs in environmental science, health studies, marine science, and more with a focus on experiential, hands-on learning.
Upgrading Drupal 7
The University was an early adopter of Drupal 7. The platform enabled its Communications team to adopt responsive, component-based design and gave them the ability to silo different content to editors in different business units across the organization. Drupal provided a content publishing workflow that allows UNE to maintain a cohesive content design and unified voice for the whole website. UNE needed to maintain this functionality while upgrading to Drupal 8, which has improved publishing workflows and multilingual features. Redfin Solutions has maintained a supportive relationship with UNE since 2016, and with the Drupal 7 End of Life looming, it was not a question of if they would move the website to a new CMS, but when Redfin would improve their Drupal experience.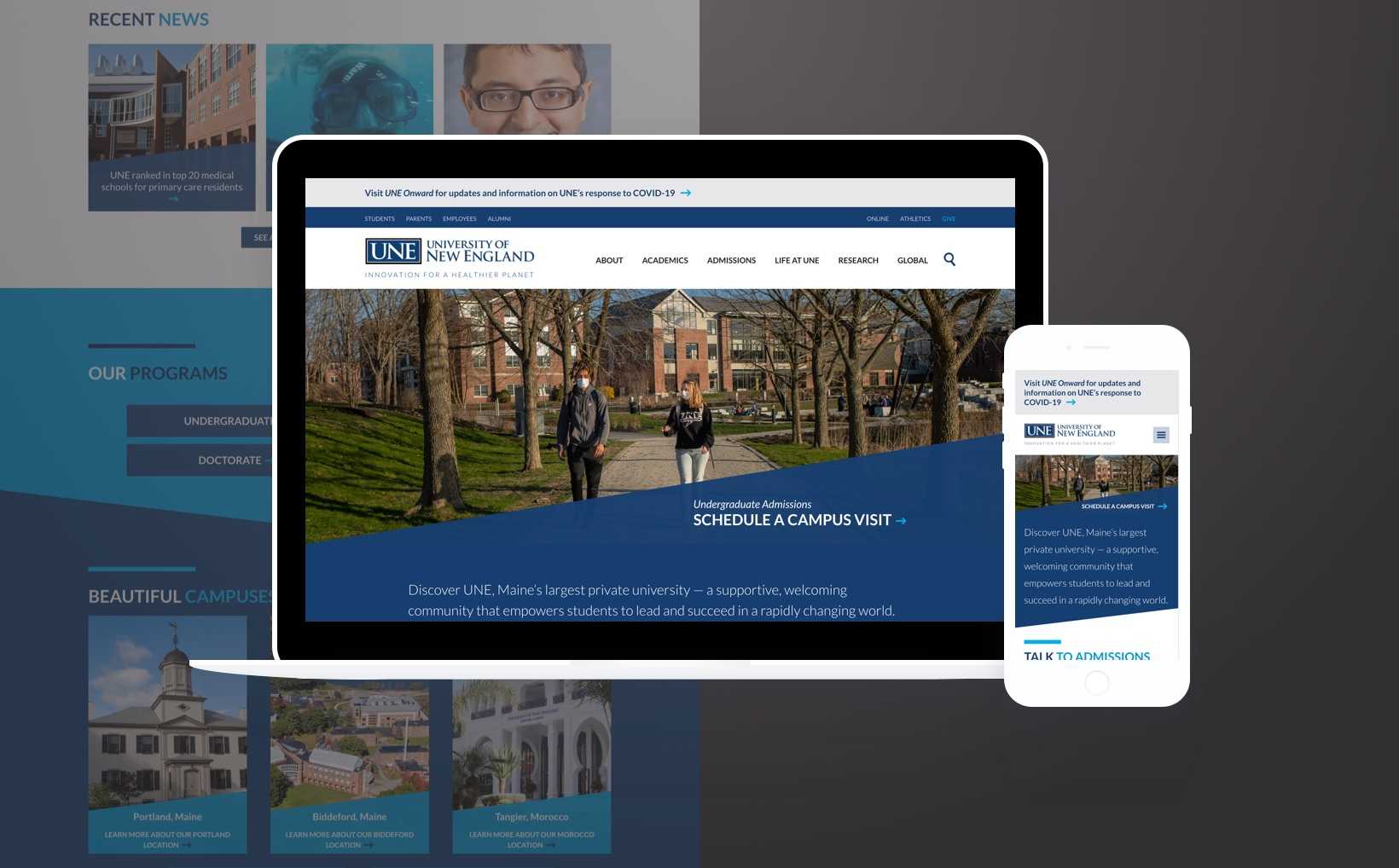 New Content Entry Paradigm: Layout Builder
With the upgrade to Drupal 8, we also embraced a new content layout paradigm using Layout Builder. As a result, we focused on restructuring and automating the migration of Drupal 7 website to pages built with Layout Builder in Drupal 8. The other key areas for improvement were the content editor experience and some design updates to meet current branding standards. The structure and process for editing content in the UNE website was dated and used older modules such as WYSIWYG Templates and Field Collections. The overall goal of the project was to increase enrollment at the University, and the website metric to measure this goal was an increase in inquiries and applications. Between April 2020 and April 2021, undergraduate admissions visits on une.edu increased by 20% as a result of the Drupal upgrade and the light redesign implemented by Redfin Solutions and the UNE communications team. We continue to monitor metrics for une.edu and make recommendations for improvements.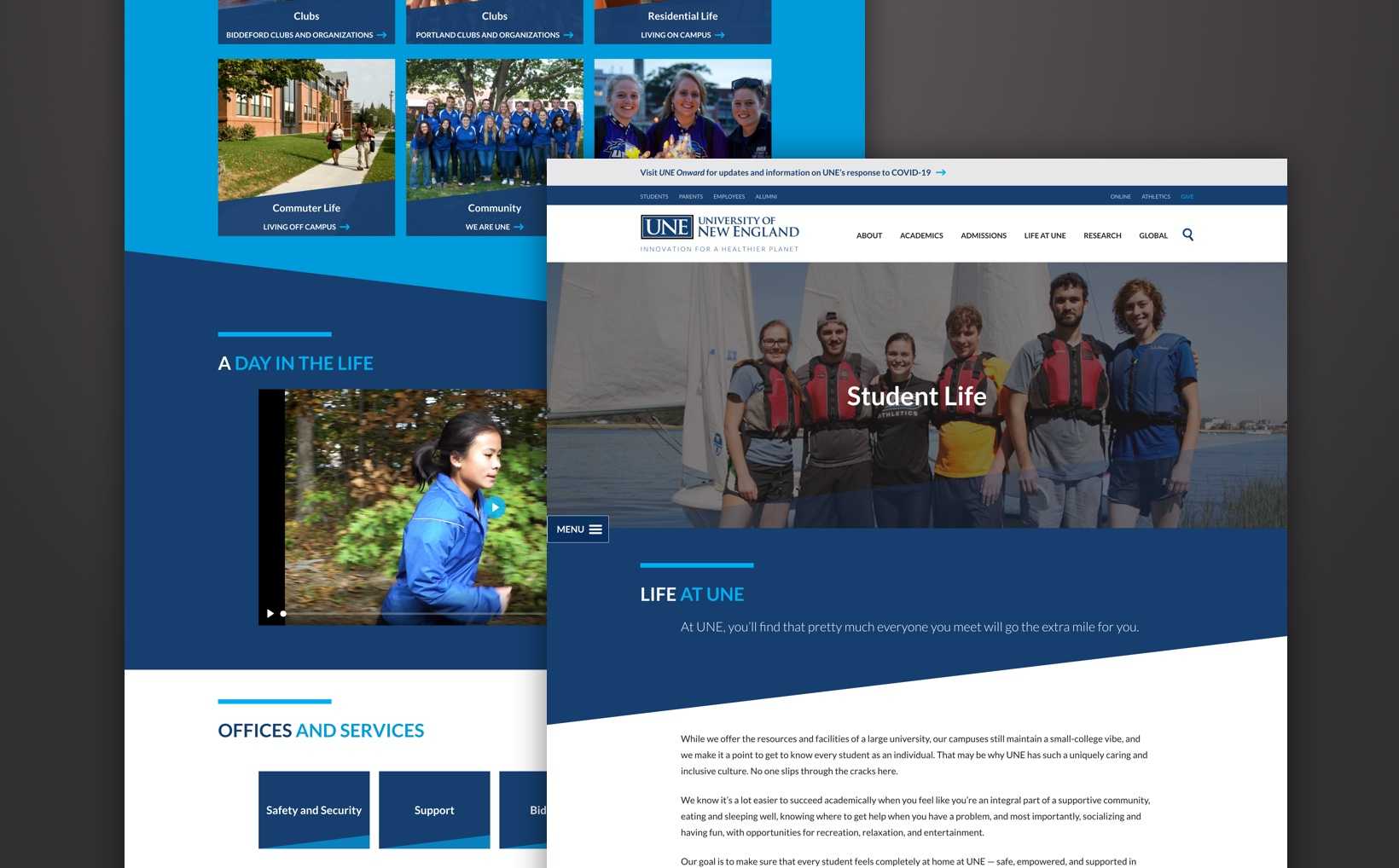 Regular, Agile Feature Releases
From discovery to launch, the upgrade process took 12 months. During discovery, the Redfin team walked UNE through a series of meetings to create prioritized user personas, journey maps, and stories so we could focus our work on creating a Minimum Viable Product (MVP) within the time and budget constraints. At the end of the discovery process, we had a clear roadmap and goals we could use to refer back to throughout the design and development stages. 
After the discovery process, we started the redesign from the top and we focused on system level development in order to bring the UNE website up to speed with best practices and accessibility. We used InVision, which is a modern prototyping tool, to share ideas and give feedback between teams. 
The key to the success of this project was the integration of our two teams. Redfin Solutions became an extension of the existing UNE web team. We worked as one unit from the beginning. Redfin took on the responsibility of mentoring and teaching UNE through the upgrade to not only improve the project website, but the team's processes for future work as well.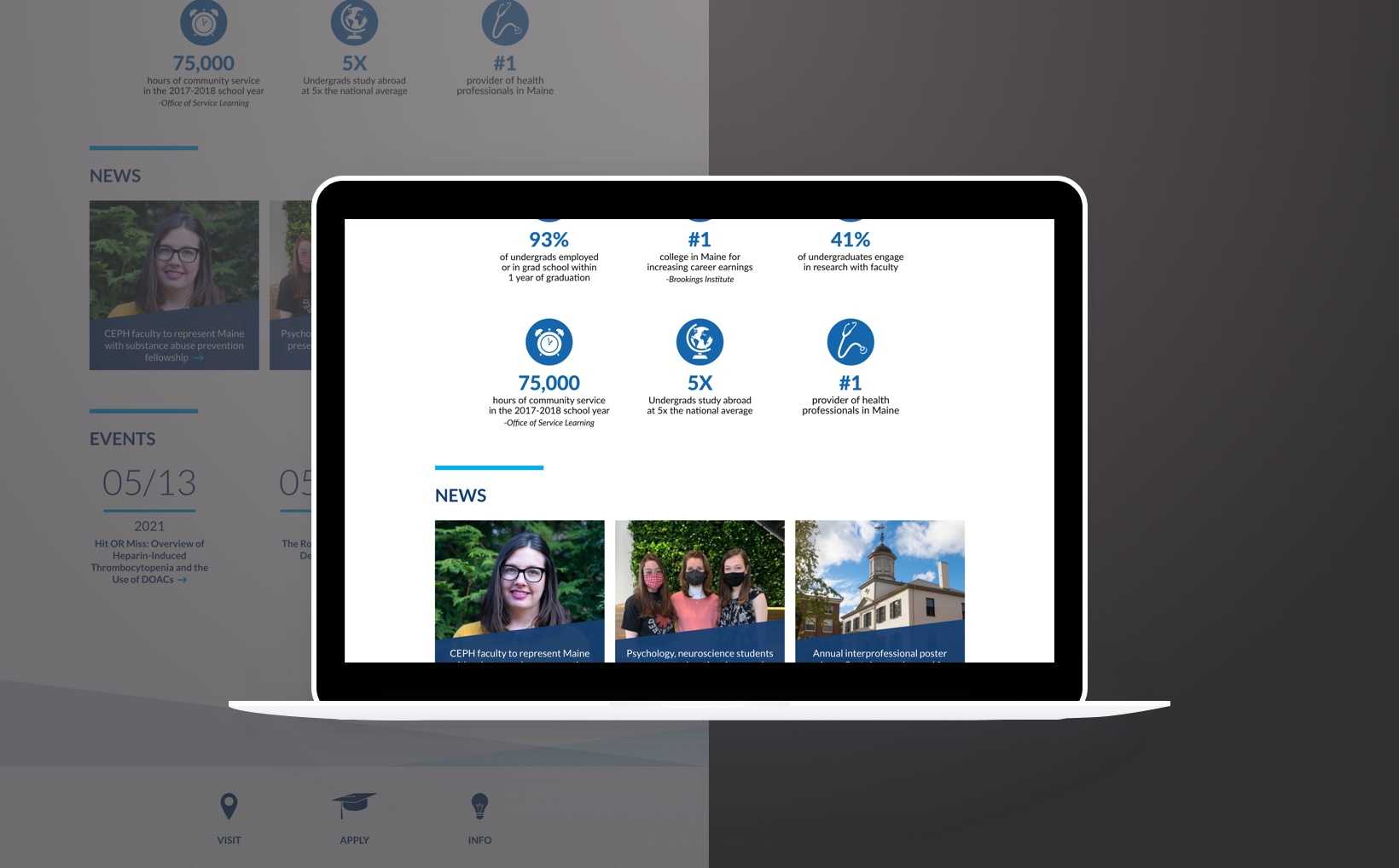 Continued Support and Development
Today, we maintain an ongoing relationship with UNE as developers and mentors. We launched the new website on time and on budget, but the launch was just the beginning of our work on the Drupal 8 website. We continue to iterate on regular feature releases during every two-week sprint. The Redfin team has become a part of the UNE team and helps them improve their website and teach them how to use and edit une.edu to suit their every need.
Visit Project